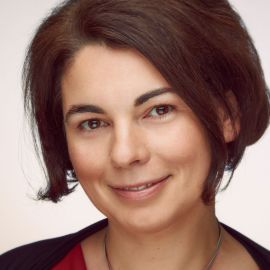 Monica Rogati is a data scientist and the former Vice President of Data of Jawbone. Before that, she was a senior data scientist at LinkedIn. She is currently an equity partner at Data Collective (DCVC) and a scientific advisor to CrowdFlower.
Rogati was Vice President of Data of Jawbone from 2013 to 2015. Previously, she a senior data scientist at LinkedIn for five years, where she built the initial version of LinkedIn's job matching system and the first machine learning model for LinkedIn's "People You May Know" feature. She is currently an equity partner at Data Collective (DCVC) and a scientific advisor to CrowdFlower.
Prior to Jawbone, Rogati was one of the early members of the LinkedIn data science team, where she developed and improved some of LinkedIn's key data products for matching jobs to passive candidates, discovering people you may know, and recommending groups you may like.
Rogati's compelling data stories are often picked up by the mainstream press, including the Wall Street Journal, New York Times, NPR and CNN. She was named as one of the 2013 "enterprise superstars" by Venturebeat, one of the top 100 most creative people in business in 2014 by Fast Company and one of the 2014 Big Data All-Stars by Fortune Magazine.
Rogati holds a Ph.D. in computer science from CMU, where she focused on text mining and applied machine learning. She authored eight US patents and numerous papers that appeared in top-tier peer-reviewed journals and conference proceedings.
Videos
---
Related Speakers View all
---
R "Ray" Wang

Founder, Chairman & Principal Analyst at Constellati...

Beena Ammanath

Global VP for Big Data, Artifical Intelligence, & In...

Dr. Heather Knight

Creative Inventor & Specialist in Human-Robot Intera...

Alex Salkever

Futurist, Author of "The Driver in the Driverless Ca...

Dr. Michio Kaku

World-Renowned Futurist & Theoretical Physicist

Mariya Yao

Founder of TOPBOTS & Author of "Applied AI: A Handbo...

Eric Siegel

Founder of Predictive Analytics World, Data Mining E...

Jim Carroll

One of the World's Leading Global Futurists, Trends ...

Daniel Burrus

Technology Futurist, Business Strategist & Hall of F...

Randi Zuckerberg

CEO & Founder of Zuckerberg Media, Author

Josh Linkner

Five-Time Tech entrepreneur, Hyper-Growth CEO, New Y...

Michael Rogers

MSNBC's 'The Practical Futurist' & Technology Expert

Ray Kurzweil

Chairman of Kurzweil Technologies; Inventor; Futurist

Amy Jo Martin

New York Times Bestselling Author, Founder of Digita...

Alice Dreger

Bioethicist; Author & Historian

Nicole Yeary

Founder & CEO of Ms.Tech

Robin Berzin

Founder & CEO of Parsley Health

Jana Eggers

CEO of NaraLogics; Innovation & AI Expert

Mitch Lowe

Co-founding Executive of Netflix & President of RedBox

Emily Chang

Host of "Bloomberg West"; Author of "Brotopia: Break...
More like Monica