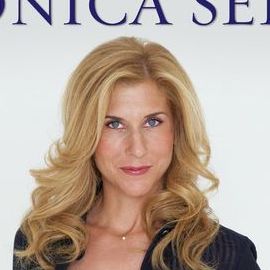 Monica Seles
Retired World No. 1 Tennis Player & International Tennis Hall of Famer; Stabbing Survivor & Youngest-Ever French Open Winner
Monica Seles is a retired professional tennis player, who represented Yugoslavia and the United States and is also a member of the International Tennis Hall of Fame. A former world no. 1, she won nine Grand Slam singles titles, eight of them as a teenager while representing Yugoslavia, and the final one while representing the United States.
Monica Seles became a teen tennis sensation in 1990, when she won the French Open at age 16 and then became the world's number-one ranked female tennis player. Seles was known for her aggressive game and for the distinctive grunts she made with nearly every shot.
Her career came to an abrupt halt at a 1993 match when she was stabbed in the back by a crazed fan of tennis star Steffi Graf. The wound was not critical, but Seles was out of tennis for over a year and her days as the game's dominant player were over. Though she enjoyed some success after rejoining the tour in 1995, including a fourth Australian Open title in 1996, she was unable to consistently reproduce her best form. She played her last professional match at the 2003 French Open, but did not officially retire until February 2008.
Regarded by many in the sport as one of the greatest tennis players of all time, Seles was named one of the "30 Legends of Women's Tennis: Past, Present and Future" by Time. Several players and historians have stated that Seles had the potential to become the most accomplished female player of all time had she not been stabbed. She was inducted into the International Tennis Hall of Fame in 2009.