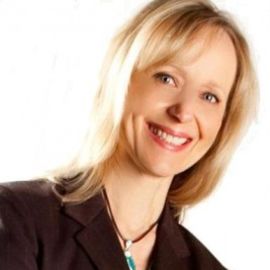 Monica Strobel
Igniting Positive Culture, Positive Leadership, High Performance & Engagement with America's Go-To Appreciation Expert
America's Complimentologist--author, professional speaker, consultant and expert-thought leader on the science of positivity and the power of appreciation, speaks and appears in the media across the country, including including NBC, CBS, FOX and more.
She brings her insightful, inspirational and irresistible SPARK Leadership and Engagement system to organizations and people who want to ignite morale, connection and performance for consistently extraordinary results.
Her leadership on appreciation, encouragement and compliments ignites positive leadership, enhances management, boosts workplace satisfaction, careers, income, health and more meaningful relationships. Her expertise is based on a 25-year communications career in nonprofits, business, government and volunteering and her can-do, uplift-others approach to life and work.
KEYNOTE AND SPEAKING PROGRAMS:
SPARK It Up!Igniting High-Performance Drive, Connection and Results, Bringing Out the Best in Those You Lead-- and You
SHINE It Up! Soar Your Career, Influence and Relationships by Selling Yourself with Sizzle Not Sleaze (especially for Women's Leadership and Women's Organizations)
Let your Spark Blaze the Way: The Power of Positive Leadership to Uplift, Empower and Accelerate Success in Those You Leadand You
Leaders Radiate Recognition: Savvy Secrets to Giving Praise and Encouragement for More Impact and Results
Connect with her http://www.linkedin.com/in/monicastrobel http://www.positivefocussuccess.com http://www.complimentquotient.com
Related Speakers View all
---
Grant D. Fairley

Inspirational Speaker and Teacher, Executive Coach &...

Jean Bailey Robor

Jean Bailey Robor, award-winning author and inspirat...

Kathy Ireland

CEO & Chief Lifestyle Designer of Kathy Ireland Worl...

Cathy Sexton - The Productivity Expert

Ignite Your Performance & Accelerate Your Results

Tonisha Pinckney

Empowerment Beyond Victimization - Author of I AM MO...

Charlie Alejandro

Motivational Speaker, Writer, Actress & Radio Talk S...

Tina Marie Jones

Connecting with the audience through the style of a ...

Tim Rooney

Helping Businesses Grow Profitably and Maintain a Wi...

Andrea Raquel

Trained Broadcast Journalist / Marketing Pro & Exper...

Adora Svitak

Author, Speaker, Youth Advocate & Child Welfare Prof...

Eric Gnezda

Singer, Songwriter, Educator, Author, TV Producer & ...

Gregory Paul Smith

Motivational Leadership Speaker in Atlanta

Amy Magyar (Coach)

The Benefits of a Coach Without the Annoying Whistle.

Dr. Brenetia Adams-Robinson

Transformational Trainer, Life Coach, Keynote Speake...

Andy Mouncey

Ultra-distance Athlete, Author, Goal-Setting Expert

Elijah Ezendu

Award-Winning Business Expert & Software Architect +...

Christi Tasker

Social Media Branding Queen and Keynote Speaker

Lisa Van Allen

Executive Coach and Spiritual Director to Mission-Dr...

Hypnotist The Incredible BORIS

Award-winning Motivational Hypnotist and Keynote Spe...

Mo Stegall

Global Brand Ambassador, Motivational Speaker, Bests...
More like Monica