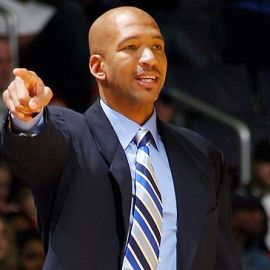 On June 2, 2015, Monty Williams accepted the role of Associate Head Coach for the Oklahoma City Thunder. Prior to this position, Williams served as head coach of the New Orleans Pelicans (2010-2015), leading the team to a 46-36 record and the seventh seed in the 2011 NBA playoffs where New Orleans pushed the former NBA-champion Lakers to six games. Williams placed seventh in coach of the year voting and was named the NBA's Western Conference Coach of the Month for January of 2011.
In his sophomore campaign, Williams managed 22 different players and 28 different starting lineups through an injury-plagued season where six players missed upwards of 15 games due to injury or illness. Through it all, Williams' squad increased its wins in every month from January to April, and closed out the regular season with a 6-1 stretch at the New Orleans Arena. His work was recognized as he finished T-11th in Coach of the Year voting, the highest finisher among non-playoff coaches.
In his third and most recent season with New Orleans, Williams oversaw the development of the second youngest team in the NBA, developing Anthony Davis in to a solid Rookie of the Year candidate and Ryan Anderson in to a Sixth Man of the Year Candidate.
Prior to his New Orleans tenure, Williams spent the previous five seasons as an assistant coach for the Portland Trail Blazers. As of the date hired, Williams became the youngest head coach in the NBA at 38 years old.
Williams is one of the promising young coaches in the NBA. Trail Blazers Head Coach Nate McMillan charged Williams with running the team's 2007 and 2008 entries into the NBA Summer League in Las Vegas. The two teams featured young Trail Blazers prospects Greg Oden, LaMarcus Aldridge, Jerryd Bayless and Nicolas Batum.
During his time with the Trail Blazers, Williams spent a great deal of time working with Travis Outlaw and Martell Webster. He focused on consistency, instilling intensity and purpose every day in practice, as well as in games. Before being traded to the Los Angeles Clippers in the 2009-10 season, Outlaw increased his scoring and rebounding average twice in four seasons during Williams' tenure. Webster and Williams both entered their first season with the Trail Blazers in 2005-06. Like Outlaw, Webster saw numerous improvements in a number of statistical categories, including points, rebounds per game, and field-goal percentage.
Prior to joining the Trail Blazers, he won an NBA Championship as a coaching staff intern with the San Antonio Spurs in 2004-05, and during the summer of 2005, coached the Spurs' Summer League entry in the Rocky Mountain Revue.
Selected by New York in the first round (24th overall) of the 1994 NBA Draft, Williams was a nine-year veteran of the NBA before chronic knee problems forced him into retirement in 2003. Hailing from Notre Dame, Williams played for the Knicks, San Antonio, Denver, Orlando and Philadelphia. His best season was with the Spurs in 1996-97, when he averaged 9.0 points, 3.2 rebounds and 1.4 assists in 65 games and shot 50.9% from the field. In 456 career games, he averaged 6.3 points per game.
He was an honorable mention All-American at Notre Dame after averaging 22.4 points and 8.4 rebounds during his senior season. Williams was away from basketball for two years during college (from 1990 to 1992) after being diagnosed with hypertropic cardiomyopathy, a rare condition of thickened muscle between the chambers of the heart. He earned a degree from Notre Dame's College of Arts and Letters, majoring in communications and theatre. In high school, he was a 4.0 student at Potomac High School in Oxon Hill, Md.
On June 10, 2013, Williams was named an assistant coach for the 2013-16 USA Basketball Men's National Team, which he previously represented as a player. Active in the Fellowship of Christian Athletes and many other charities, Williams was involved with fellow NBA guard Charlie Ward in distributing shoes and athletic equipment to impoverished communities in South Africa. In September 2011 and August 2013, Williams went to South Africa as part of the NBA's Basketball Without Borders program.
Videos
---