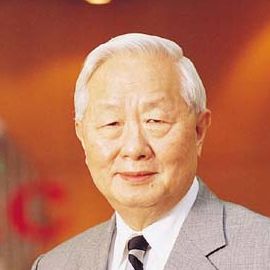 Dr. Morris Chang, Ph.D., has been the Chairman of Taiwan Semiconductor Manufacturing Company Limited since December 10, 1986 and served as its Chief Executive Officer from June 12, 2009 to November 12, 2013. Dr. Chang has been active in the semiconductor industry for over 48 years.
From 1985 to 1994, Dr. Chang served as President and Chairman of the board of Directors of itri. Prior to that, Dr. Chang served as President and Chief Operating Officer of General Instrument Corporation and as Corporate Group and senior Vice-President for Texas Instruments. He serves as Trustee of Eisenhower Exchange Fellowships. He serves as a Member of International Advisory Committee of New York Stock Exchange, Inc. He has been a Director of Taiwan Semiconductor Manufacturing Company Limited since December 10, 1986.
He served on the board of Directors as a Director of The Goldman Sachs Group, Inc. He is Member of National Academy of Engineering (U.S.A) and Member of MIT Corporation as well. He is also on the advisory boards of NYSE, Stanford University and University of California at Berkeley. He was the recipient of the IEEE Robert N. Noyce Award for Exceptional Contributions to Microelectronics Industry and the 'Exemplary Leadership Award' of the Fabless Semiconductor Association (FSA). He was selected by BusinessWeek as one of the 'Top 25 Managers of the Year' and 'Stars of Asia' in 1998; and by BancAmerica Robertson Stephens as 'One of The Most Significant Contributors in the 50 years of Semiconductor Industry' in 1998.
Dr. Chang holds a Bachelor's degree and a Master's Degree in Mechanical Engineering from the Massachusetts Institute of Technology and a Ph.D. in Electrical Engineering from Stanford University.
Videos
---
News
---
Forbes - Morris Chang | Honesty
On Honesty. Morris Chang. Computer Insider: Founder, Taiwan Semiconductor. My values are: integrity, commitment, innovation and trust from customers.
Related Speakers View all
---
Brian Chesky

Co-Founder, CEO & Head of Community at Airbnb

Derek Lidow

Global CEO, Entrepreneur, Author & Princeton Professor

Ross Perot

Former Presidential Candidate & Founder of Electroni...

Ryan Steelberg

President at Veritone, Inc.

Adelyn Zhou

Founder & Head of Marketing at Topbots

Niniane Wang

Founder & CEO at Evertoon

Terry Gou

Founder & Chairman of Foxconn

Naeem Zafar

CEO of TeleSense, Entrepreneur, Educator, Author

Margaret Keane

President & CEO of Synchrony Financial

Sukhinder Singh Cassidy

President of StubHub; Founder & Chairman of Joyus

Louis Gerstner, Jr.

Former Chairman & CEO of IBM

Nancy Giordano

Strategic Futurist, Corporate Strategist & Keynote S...

Yoky Matsuoka

Chief Technology Officer at Nest; Former VP of Techn...

Nico Sell

Founder of Wickr

Barry Diller

Chairman & Senior Executive of IAC and Expedia, Inc....

Michael Eisner

Former CEO of The Walt Disney Company from 1984 unti...

R "Ray" Wang

Founder, Chairman & Principal Analyst at Constellati...

Eli Broad

Founder of SunAmerica Inc. & KB Home; Founder of the...

Zvika Krieger

Head of Technology Policy and Partnerships, for the ...

Osh Agabi

Founder & CEO of Koniku Inc.
More like Morris