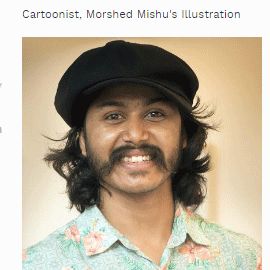 Morshed Abdulla Al
Cartoonist Behind Morshed Mishu's Illustration; Started the Global Happiness Project to Find Happiness in Tragedies
At the beginning of 2018 Bangladeshi cartoonist Morshed Abdulla Al, under the pen name Morshed Mishu, began transforming tragic and shocking images from wars into joyful art, hoping to show how beautiful the world would be without violence or war. His series, named 'Global Happiness Challenge' project, went viral after that. Mishu has been working as a professional cartoonist since 2012 and is currently, the assistant editor at Unmad, a Dhaka-based satire magazine and the founder of Morshed Mishu's Illustration.
He has been drawing at Morshed Mishu since 2012. He started drawing cartoons professionally at the age of 19 and now Morshed is the Assistant Editor of UNMAD Monthly Satire Magazine – the longest running Cartoon Magazine of the region. He also worked as Editorial Cartoonist for the Daily Bangladesh Today & as an illustrator for Bitopi Advertising ltd.
In between he drew political (editorial/illustration) and clean humour cartoons, comic strips & advertising materials for various national dailies, agencies and periodicals on both local and global issues. Drawing Caricatures is also one of Morshed's strong points.
Both as a member of Cartoon People (A Community of Bangladeshi Cartoonists Worldwide), and at his own capacity Morshed has taken jobs as a caricaturist for different MNCs and Local bodies' events and special celebrations.
Videos
---