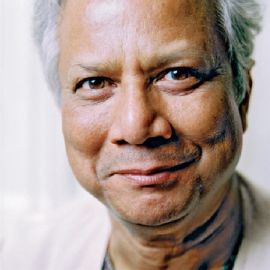 Muhammad Yunus
Nobel Peace Prize Laureate & Founder of Grameen Bank; Known for His Work to Eliminate World Poverty
Called the "Banker to the Poor," Nobel Peace Prize winner Muhammad Yunus is respected globally for his contributions toward eradicating world poverty. Driven by the idea that credit is a basic human right, Yunus founded the Grameen Bank in 1976 and developed his revolutionary micro-credit system, which has achieved phenomenal success in helping the 5.6 million poor people in Bangladesh gain a better quality of life.
Born in Chittagong, a seaport city in Bangladesh, Yunus received his Ph.D. in economics from Vanderbilt University and became a professor of economics at Middle Tennessee State University. It was years later when he returned to Bangladesh to head the economics department at Chittagong University that a fateful field trip with his students showed him the full extent of the country's suffering. Yunus recalls, "Nothing in the economic theories I taught reflected the life around me. How could I go on telling my students make-believe stories in the name of economics? I needed to run away from these theories and from my textbooks and discover the real-life economics of a poor person's existence." He discovered that his most successful idea was offering people tiny loans for self-employment.
The Grameen Bank was fully established as an independent bank in 1983, and today more than 250 institutions in nearly 100 countries operate micro-credit programs based on the Grameen Bank model. One expert in innovative government has stated that the program established by Yunus "is the single most important development in the third world in the last 100 years." Yunus and Grameen Bank were jointly awarded the Nobel Peace Prize in 2006 "for their efforts to create economic and social development from below."
From 2016 to 2018, Yunus served as one of the UN's Sustainable Development Goals advocates alongside the likes of Shakira and Lionel Messi.
A man who has successfully translated a single vision into tangible benefits for millions of people around the world, Yunus has proven that we can overcome the seemingly impossible as we work toward building a better future for all.
Speech Topics
---
Creating a World Without Poverty: Social Business & the Future of Capitalism
Microcredit & Empowering the Poorest of the Poor: A Story of Success & Hope
Related Speakers View all
---
Peter Diamandis

Founder & Executive Chairman of the XPRIZE Foundatio...

Joseph Stiglitz

American Economist, Professor at Columbia Universit...

Jeremy Rifkin

Leading Global Technologist, Futurist, Authority on ...

Ray Kurzweil

Chairman of Kurzweil Technologies, Inventor & Futuri...

Van Jones

CEO of REFORM Alliance, CNN host, Emmy Award-winning...

Ian Bremmer

Political Scientist, Author, Entrepreneur & Lecturer

Dr. Michio Kaku

World-Renowned Futurist & Theoretical Physicist

Parag Khanna

Leading Geo-Strategist & Author

Sir Richard Branson

Businessman & Founder of Virgin Group

Anil Gupta

Leading Expert on Strategy, Globalization and Emergi...

Richard Florida

Leading Urbanist, Economist & Author of "The Rise of...

Jacqueline Novogratz

Founder & CEO of Acumen Fund

Raj Patel

Award-Winning Writer, Activist & Academic

Dan Ariely

Behavioral Economist; Professor at Duke University; ...

Steve Wozniak

Co-Founder of Apple Computer, Inc.

Amy Goodman

Host & Executive Producer, Democracy Now!

Todd Buchholz

Former White House Director of Economic Policy & CNB...

Matthew Bishop

Managing director, Rockefeller Foundation and Former...

John Mackey

Co-Founder & CEO, Whole Foods Market

Gary Vaynerchuk

Co-Founder & CEO of VaynerMedia
More like Muhammad