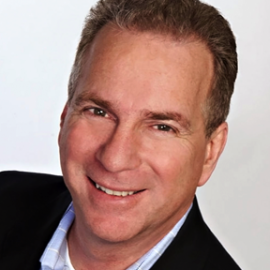 From humble beginnings struggling against the odds as "learning disabled," business growth expert Murray Smith first cleaned sewers in Toronto and then became an internationally recognized entrepreneur, thought leader, and author. His recently published New York Times and Wall Street Journal bestselling book, The Answer, helps entrepreneurs grow their business, achieve financial freedom, and live an extraordinary life.
Murray has started or turned around 13 businesses, including Indian Motorcycle, American Brands, and Dave & Buster's Canada. He bought the Indian Motorcycle trademark from bankruptcy (just the name) and built it into the second largest US motorcycle company in the world with first year sales of $75 million and a business value of $300 million. Murray has been featured in numerous national and international media including Forbes, Entrepreneur, CBC, CNN, NBC, and hundreds of other media. His passion is working with entrepreneurs and has helped thousands of small business owners in more than 30 countries.
Smith has helped thousands of small business owners in more than 30 countries, and his proven business-building success strategies have led to the development of his comprehensive income acceleration system, which is licensed to more than 10,000 businesses worldwide. He currently owns three businesses dedicated to helping organizations and business owners reach their full potential.
If you're tired of disengaged "talking heads," Murray Smith is the speaker you need for your event. When he engages the audience in conversation—and especially when he "consults" with audience members about their immediate business challenges right there on stage—people just can't get enough. It's a memorable, meaningful, and truly unique experience where people get exactly what they need to make their business more profitable right then and there.
When you have one of the most gifted business minds in the world, you don't worry much about being scripted and slick. Rarely can someone talk to an established CEO and a start-up entrepreneur and have them both walk away with new ways to be more profitable. More importantly they know how to apply that wisdom, which is the only way to measure the true impact of your event. If that is what your audience is looking for, you simply can't serve them any better than to gift them with Smith's remarkable insights and engaging style.
Speech Topics
---
Unstoppable
As the owner of over a dozen successful companies dedicated to business growth, Murray Smith understands how help organizations and individuals achieve their utmost potential. While offering them practical business knowledge he also empowers them to push the boundaries of what is possible. Murray believes that when we inspire people to believe in what's possible, we give them hope, when we give them the practical knowledge to make what's possible real we empower them, and when human energy is focused the potential is unlimited and you become unstoppable. In this keynote speech, Smith stresses that human potential is unlimited and evangelizes that, by coupling that potential with practical, useable knowledge, anyone can be unstoppable at achieving extraordinary results in business, we help them attract more clients and increase revenues.
How to Discover New & Untapped Revenues in Your Business
Murray Smith has launched or revived 13 successful businesses across a wide range of industries including media, hospitality, retail, consumer products, technology, energy, and e-commerce. Using fascinating case studies, interactive audience exercises, and his own firsthand experiences, he helps his audience members learn how to make and apply the right decisions for their businesses with confidence and certainty. With humor and plain language, he takes the mystery out of business growth and inspires his listeners to reach toward the life and business of their dreams.
Transform Your Business: Live Consulting Session
This session, facilitated by business growth expert Murray Smith, will show business owners, entrepreneurs, and sales professionals the critical few strategies to generating more revenues and attracting more clients. This session will consist of entrepreneurs joining Murray live on stage where he will conduct a rapid exchange of questions, suggestions, and advice that delivers incredible insights and "a-ha!" moments for everyone. Murray has helped participants discover millions of dollars of new and untapped revenues in minutes and he does it in real time. The Transform Your Business Live Consulting Session has been known to collapse the learning curve from years into moments for the people in the hot seat and the entire audience.
The Answer: Grow Any Business, Achieve Financial Freedom & Live an Extraordinary Life