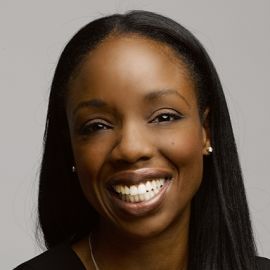 Dr. Nadine Burke Harris
Founder and Former CEO of Center for Youth Wellness (CYW) & California's Surgeon General
Dr. Nadine Burke Harris is founder and CEO of Center for Youth Wellness (CYW). She has earned international attention for her innovative approach to addressing adverse childhood experiences as a risk factor for adult disease such as heart disease and cancer. Her work has demonstrated that it's time to reassess the relationship between poverty, child development and health, and how the practical applications of the Adverse Childhood Experiences (ACE) study can improve health outcomes.
Dr. Burke Harris currently serves as an expert advisor on the Too Small To Fail initiative championed by Hillary Clinton and the Clinton Foundation in association with Next Generation. This initiative aims to help parents and businesses take meaningful actions to improve the health and well-being of children ages zero to five, so that more of America's children are prepared to succeed in the 21st century. Dr. Burke Harris also serves as an advisor on Governor Jerry Brown's "Let's Get Healthy California Task Force," and the American Academy of Pediatrics (AAP) as a committee member for the AAP's Medical Home for Children Exposed to Violence Committee. Her work has been profiled in Paul Tough's best-selling book, How Children Succeed: Grit, Curiosity, and the Hidden Power of Character hailed by NY Times columnist, David Brooks, as "essential." Dr. Burke Harris' work has also earned her the Arnold P. Gold Foundation Humanism in Medicine Award presented by the American Academy of Pediatrics.
The goal of the Center for Youth Wellness is ambitious – to create a clinical model that recognizes and effectively treats toxic stress in children and to change the standard of pediatric practice in our nation. CYW works in close partnership with the CPMC Bayview Child Health Center where Dr. Burke Harris was the founding physician and where she maintains her clinical practice. Her areas of interest are in health disparities, child trauma, nutrition and asthma. Particularly, her focus is serving communities where issues of poverty and race present challenges to conventional healthcare and education.
Related Speakers View all
---
Raj Panjabi

Co-Founder & CEO of Last Mile Health

Lucy Marcil

Co-Founder of StreetCred & Provider of Economic Mobi...

Erin Gruwell

Inspirational Educator & Author of "The Freedom Writ...

Kimberly Noble

Director of the Neurocognition, Early Experience & D...

Adewale Troutman, MD, MPH, MA, CPH

Associate Dean for Health Equity and Community Engag...

James Garbarino

Author, Psychologist, Expert on Violence & Children

Karen DeSalvo

Former Assistant Secretary for Health in the U.S. De...

Deepak Chopra

Co-Founder of The Chopra Center for Wellbeing

Dr. Tererai Trent

Internationally Recognized Voices for Quality Educat...

Camara P. Jones

Research director on Social Determinants of Health a...

Shannon Miller

Olympic Gold Medalist, Health Advocate & Cancer Surv...

Paula Braveman

Director of the Center of Social Disparities in Heal...

Shawn Achor

Harvard Professor & Researcher; Positive Psychology ...

Dr. Holly G. Atkinson

Award-Winning Medical Journalist

Nicole Yeary

Founder & CEO of Ms.Tech

Fania Davis

Co-founder & Director of Restorative Justice for Oak...

Jamira Burley

Head of Youth Engagement & Skills for the Global Bus...

Kathryn Edin

Sociologist & Bloomberg Distinguished Professor at J...

Mia Birdsong

Senior Fellow at the Economic Security Project, Co-D...

Mayor Aja Brown

Mayor, City of Compton
More like Dr.