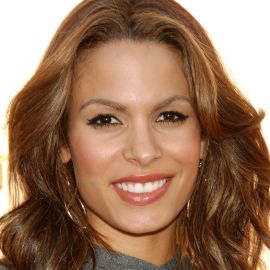 Nadine Velazquez
Model and Actress Known for her Roles in "The League," "My Name is Earl" and "Flight," Among Others
Nadine Velazquez captured our hearts as Catalina, the sexy hotel maid/stripper with a heart of gold, on the People's Choice winning NBC comedy series, "My Name is Earl," for which she received four ALMA Award nominations in the Best Supporting Actress category.
In fall 2012, moviegoers saw her dramatic side as she stars opposite Denzel Washington in the Robert Zemekis directed film "Flight," which premiered in November 2012. She then starred in the action thriller "Snitch," where she stars as Analisa, Dwayne "The Rock" Johnson's wife. It premiered in April 2013. This was followed by the Lionsgate comedy "Aztec Warrior," where Nadine played the romantic lead opposite Luiz Guzman.
Nadine continues to be a familiar face on television with recurring roles as sultry Sofia on FX's hit comedy, "The League" and this past season as sweet Southerner Didi Ruano on CW's "Hart of Dixie." Daily Variety singled out Velazquez as one of 'Ten Actors to Watch,' and USA Today named her 'One of Five Rising Stars to Watch Closely.' She was additionally picked by Entertainment Weekly for their summer 'Must List,' and included in People En Espanol for its '50 Most Beautiful People.'
A Chicago native, Nadine currently resides in Los Angeles. She is an impassioned supporter of charities that protect the rights of disenfranchised youth.