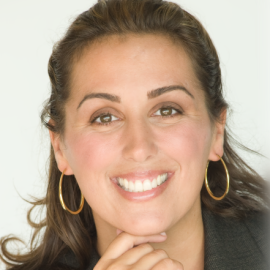 Nancy Solari
Motivates, Coaches and Empowers Entrepreneurs and the Visually-Impaired to Regain a Life Vision and Live Life Full Out
Nancy Solari is an authentic, passionate, and successful example of how you can live the life you want with an empowered and positive mindset regardless of the challenges you face, and Nancy has first-hand experience with major challenges. When she was 16 years old, she was diagnosed with retinitis pigmentosa and over the years experienced subtle yet measurable vision loss. Rather then let the news kill her dreams, Nancy chose to plow ahead and is now sharing her tools for success with audiences and groups all over the country.
Along Nancy's journey, she has worked for "Good Morning America" and "Entertainment Tonight," had a successful music career, is currently in her 10th year of being a top-producing realtor in Southern California, and is a successful business owner. She takes a proactive stance in her vision loss by volunteering for organizations like the Foundation Fighting Blindness and she has participated in research studies to search for cures for retinal diseases.
After years of proving to herself that nothing could stop her from living the life she knew she deserved, Nancy started her business Living Full Out to help others realize their dreams. Besides writing books and providing personal coaching, Nancy also speaks professionally, reaching out to a variety of audiences who enthusiastically embrace Living Full Out. Nancy hosts "Living Full Out with Nancy Solari" on Talk Radio 790 KABC, which reaches audiences in Los Angeles and Orange Counties.
Though today she is legally blind, Nancy continues to go out dancing at night, spend time with her friends, travel to foreign countries solo, go to the gym, go on walks with her dog, and she is always reaching out to meet the next challenge in life head-on with a smile on her face.
Speech Topics
---
THE KEY TO OUTRAGEOUS PRODUCTIVITY
Watch productivity skyrocket! Nancy brings new life to the term "community" by rede?ning it for a corporate environment as the key to getting work done.
THE ANSWER TO A STRESS-FREE WORKPLACE
When your teams work with purpose, stress is replaced with excitement and commitment. Nancy trains audiences in identifying purpose and gives them communication tools to alleviate pressure and work smarter.
THE ART OF BALANCE
You want your associates to give their all at work without sacri?cing the rest of their lives. The Art of Balance teaches audiences how to keep work fresh and personal goals supported -- and essentially, becoming the best version of themselves all of the time.
WORKING TOGETHER IS NOT A WEAKNESS
Your teams need focus and productivity to attain success. That means learning to be ?exible with the different roles people play on teams: leaders, supporters and collaborators. Nancy inspires audience members to embrace all roles, opening them up to creativity, collaboration and achievement.
Related Speakers View all
---
Eileen McDargh, CSP, CPAE

Healthcare Consultant & Author of "The Resilent Spirit"

Erin Gruwell

Founder & Executive Director of the Freedom Writers ...

Stacy Allison

Businesswoman, Adventurer, Author & Motivational Spe...

Mike Jaffe

9/11 Survivor; Human WakeUp Call

Captain Gerald Coffee

Former Vietnam Prisoner of War and Inspirational Spe...

Vince Poscente

Former Olympic Speed Skier, Leadership & Sales Exper...

Vince Papale

Former NFL Player & Inspiration for the Movie "Invin...

Caitlyn Jenner

TV Personality, Olympic Gold Medalist & Iconic Trans...

Alan Hobson

Author, Mt. Everest Climber & Cancer Survivor

Mike Eruzione

Captain of the 1980 US Olympic Hockey Team & Subject...

Mimi Donaldson

Speech Coach & Author of "Negotiating for Dummies" a...

Jim Craig

Gold Medal Olympian; Inspiration for Disney Film "Mi...

Dan Clark

Master Motivator, CEO, New York Times Bestseller & M...

Ariane de Bonvoisin

Founder and CEO of First30Days.com & Author, "The Fi...

Sierra Bender

Empowerment Coach and Visionary Healer for the Mind,...

John Amatt

Mountaineer, Founder & President of One Step Beyond ...

Jim Abbott

Former One-Handed Major League Baseball Pitcher

Amanda Russell

Digital Marketing & Branding Strategist, Professor ...

Charlie Alejandro

Motivational Speaker, Writer, Actress & Radio Talk S...

Bethany Hamilton

Professional Surfer & Shark Attack Survivor; Inspira...
More like Nancy