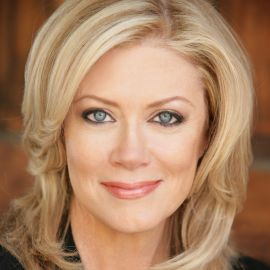 Nancy Stafford
Speaker, author, and actress, speaks on life transformations, insecurities and acceptance
Speaker/Author/Actress Nancy Stafford travels extensively speaking at conferences and retreats, to womens groups, colleges, professional groups, churches, and other organizations. She is the author of Beauty by the Book: Seeing Yourself as God Sees You (Multnomah Publishers) where she shares her story of Gods healing and transformation in her life from insecurities and unworthiness to wholeness and acceptance. She shares the Scriptures, promises, and truths we need to know to find freedom from our pasts and freedom from the bondage of our cultures standards. "Everyone has beauty and value," says Nancy "but not everyone sees it. I want you to see it."
Her passion is to reveal the true identity and inner beauty of her audience, as well as the outer.
An actress for twenty years, Nancy has starred in numerous TV movies and series, including five years as Andy Griffiths law partner, Michele, on ABCs "Matlock", and three years on the NBC Emmy-winning "St Elsewhere." She starred in the ABC series "Sidekicks", and began her television acting career as a regular in a dual role on the NBC daytime drama "The Doctors". She has also had guest starring roles on "ER", "Frasier", "Babylon 5", "Quantum Leap", "Whos the Boss?", and numerous others. She has starred in several recent TV movies, including NBCs "Moment of Truth: A Child Too Many" and Foxs "Deadly Invasion".
For the past eight years Nancy has been the host of TVs "Main Floor", the network-syndicated fashion/ beauty/ lifestyle series that airs in over 40 countries around the world. Her column, Nancys Notebook , appears on the shows internet website www.mainfloor.com, where she writes about beauty, both inside and out.
Her longstanding interest and love for Israel led her to host the TV specials "Where Heaven and Earth Meet", for the state of Israel, and also "On Wings of Eagles" and "Operation Isaiah 58", for the International Fellowship of Christians and Jews, which raises funds to help care for and relocate tens of thousands of Jews from the former Soviet Union to Israel. She has hosted the live daily talk show "Great Day America" and "Hands of Mercy" both for PAX-TV, "Inspirational Life Awards" for INSP, and guest-hosted "At Home Live" for Family Net.
A former Miss Florida in the Miss America Pageant, Nancy is a native of Ft. Lauderdale and is a journalism graduate of the University of Florida. In New York she became a top model with the Ford Model Agency before beginning her acting career.
Off the screen Nancy serves on numerous Boards, including Inter-Mission, a group of over 4,000 working professionals in Hollywood-- producers, directors, actors, writers, and technicians-- all committed Christians; The Actors Co-Op, a Los Angeles theater company that consistently wins L.A. theater awards for its excellence; and Act One: Writing for Hollywood, a comprehensive training and mentoring program to prepare the next generation of Christian screenwriters. She also serves on the Biola University Studio Task Force, The Damah Film Festival Reference Board, the Dove Foundation Advisory Board, and is a frequent speaker at numerous media events nationwide.
Nancys husband, Larry Myers, is a graduate of Dallas Theological Seminary. He has been a pastor and worship leader since 1975 when he helped establish the original Vineyard Christian Fellowship. Subsequently he has helped establish three other churches in the Los Angeles area, and was most recently senior associate pastor of the Malibu Vineyard Christian Fellowship. The focus of his ministry has been teaching, counseling, and the pastoral care of artists and musicians. He was a member of the Chuck Girard Band from 1975-80, and as a concert musician appeared with Greg Lake (Emerson, Lake and Palmer), Bernie Leadon (Eagles), Chris Hillman (Byrds), and many others. He has recorded with numerous artists including Bob Dylan, Johnny Rivers, Chuck Girard, Anne Herring, Kevin Prosch, David Ruis, Andy Park. In addition, he has appeared frequently on the Vineyard worship series "Touching the Fathers Heart".
Nancy and Larry have been married for 13 years, and are fulfilling their longtime dream of providing a serene and private place for others to come for retreat......their ranch, Rancho Monte Nido www.ranchomontenido.com, just outside Los Angeles, has been used by many to work on creative projects, as well as seek God, and experience His healing and restoration.
Videos
---
Related Speakers View all
---
Karen Covell

Producer & Director of The Hollywood Prayer Network

Sara Paulson Brummett

Recording Artist, Worship Leader, Songwriter, Speaker

Lisa Whelchel

Author, Founder of Momtime Ministries & Actress Know...

Gigi Graham

Women's Speaker, author, Daughter of Dr. & Mrs. Bill...

Sheila Walsh

Author, Speaker, Worship Leader, Television Talk Sho...

Keith Ferrin

President of That You May Know Ministries

Debbie Morris

Brings a powerful testimony of forgiveness and faith

Jennifer O'Neill

Internationally Acclaimed Actress, Christian & Pro-L...

Linda Mintle, Ph.D

"Doing Life Together"

River Jordan

Novelist & Playwright Known for "Praying for Strangers"

Sheri Rose Shepherd

Best-selling Author, Speaker and Humorist

Sylvia Harney

Christian Comedian; Author of "Married Beyond Recogn...

Susie Shellenberger

Author, Gifted Speaker and storyteller

Susie Larson

Radio Host of "Live the Promise with Susie Larson", ...

Marilyn Laszlo

Indiana Farm girl turned Missionary to Paupa New Guinea

Kay C. James

Motivational Speaker, Founder of the Gloucester Inst...

Karen James

Untold Story of the Mt. Hood Tragedy

Deidre Pujols

Co-Founder of The Pujols Family Foundation; Wife of ...

Candace Cameron Bure

Women & Youth Speaker Best Known for Her Role on "Fu...

Carolyn Castleberry

Carolyn Castleberry is an internationally-recognized...
More like Nancy