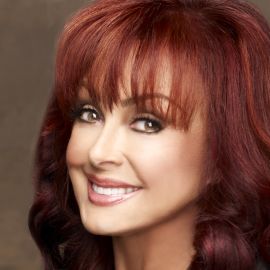 Hailing from the Appalachian​ ​foothills​ ​of Ashland, Kentucky, mother​ ​and​ ​daughter​ duo, The Judds, were first discovered by RCA​ ​label​ ​head​ ​Joe​ ​Galante​ ​in​ ​1983 ​after landing a spot on​ ​WSM-TV's​ "​The​ ​Ralph​ ​Emery Show." They ​made​ ​their​ ​chart​ ​debut​ ​by​ ​​the ​end​ ​of​ ​the​ ​year​ ​with​ ​"Had​ ​A​ ​Dream​ ​(For​ ​The​ ​Heart)." The​ ​two​ ​were​ ​on​ ​their​ ​way​ ​to ​becoming one of the best-selling duos of all time.
For​ ​the​ ​rest​ ​of​ ​the​ ​1980's,​ ​each​ ​single​ ​from​ ​The​ ​Judds​ ​released​ ​by​ ​RCA​ ​went​ ​to​ ​the Billboard​ ​Top 10,​ ​with​ ​14 hits ​going​ ​all​ ​the​ ​way​ ​to​ ​number​ ​one.​ The Judds swept the CMA's Vocal Group/Duo category from 1985 to 1991 and garnered six Grammy Awards.
The​ duo embarked​ ​on​ ​their​ ​"Farewell​ ​Tour"​ ​in​ ​1991 ​after​ ​Naomi's​ ​diagnosis​ ​of​ ​Hepatitis C​ ​forced​ ​her​ ​to​ ​retire​ ​from​ ​the​ ​road.​ ​Naomi​ ​focused​ ​on​ ​her​ ​health,​ ​beating​ ​the​ ​disease and writing several​ ​New​ ​York​ ​Times​ ​best-selling​ ​books.
Judd served as the first national spokesperson for the American Liver Foundation, combining her fame, her experience as a former RN and her passion to help people. As a keynote speaker, she re-directed energies into communicating her learnings and research, educating audiences about the scientific link between mind, body and spirit in the healing process.
Judd helped launch CMT's reality competition hit, Can You Duet, as a talent judge for two seasons from 2008 to 2009. In the summer of 2009, following a Judds performance at the CMA Music Festival for 50,000 fans, the reaction sparked The Judds to reunite for one last tour. The tour became realized as the 2010 "The Judds: The Last Encore," which traveled to 18 markets during the holiday season. The tour featured new Judds music, Judds classics and holiday favorites. Naomi and Wynonna's preparations for the tour are featured on their own series on the Oprah Winfrey Network (OWN).
Meanwhile, Naomi continues humanitarian efforts including St. Jude Children's Hospital, River Cities Harvest, the Saint Louis University Liver Center, M.A.D.D., Parents Television Council, Make-A-Difference Day, Women's World Peace Initiative, the National Domestic Violence Hotline, and she created her own July 4th Judd's Annual Food Drive to benefit families of Appalachia.
Speech Topics
---
Eight Characteristics of a Survivor
Loss of your job, a health crisis, and failing relationships are just a couple of the common drivers of personal crisis which cause feelings of loss of control of your life. Learn how to not only survive but thrive amidst personal difficulties as Naomi discusses the eight characteristics of survivors from having a support system to having a purpose in your life.
How To Have a Breakthrough, Not a Breakdown
Given only 3 years to live when diagnosed with hepatitis C and forced to leave behind her musical career during the pinnacle of The Judds success, the now- recovered Naomi Judd shares her hard-won wisdom that peace of mind isnt the absence of a problem, its in finding the proven ways to deal with them. This speech is inspired from her New York Times bestselling book, Naomi's Breakthrough Guide.
Aging Gratefully
Inspired by her book, Naomi's Guide to Aging Gratefully, this lecture presents facts, myths, insights and good news for Boomers in a delightfully entertaining way through a message of looking for more meaningful ways we can define ourselves so we can enjoy aging.
30 Ways To Live the Transparent Life
Based on Naomi's first book, The Transparent Life, she leads the audience through a journey of self-discovery and transformation through 30 proven, practical ways to live more fully and honestly, regardless of your circumstances. The audience learns short, inspirational lessons from her own experiences - tragic, triumphant and transcendent - about living honestly and without pretending.
Creating Health, Wealth and Happiness From Nothing
Do you have a mentor in making a dream become a reality? Would you like to hear how someone with a grim prognosis became a medical miracle? Are you yearning to become less stressed and depressed? Naomi has answers learned through her own life's journey.
An Evening with Naomi Judd
Holistic Medicine: How to Have a Breakthrough, Not a Breakdown
How to Live a Transparent Life
Related Speakers View all
---
Shawn Johnson East

Olympic Gold Medalist in Gymnastics, "Dancing with t...

Joan Lunden

Award-Winning Journalist, Bestselling Author & Healt...

Erin Brockovich

Consumer Advocate, Author, TV Host & Environmental A...

Shannon Miller

Olympic Gold Medalist, Health Advocate & Cancer Surv...

Montel Williams

Emmy Award-Winning Talk Show Host Best Known For "Th...

Ginger Zee

Chief Meteorologist for ABC News, Author & Mental He...

Nastia Liukin

Olympic Gold Medal Gymnast

Rita Moreno

Award-Winning Actress, Dancer & Singer; New York Tim...

Ashley Judd

Actress, Activist & Humanitarian

Kathy Najimy

Award-Winning Actress & Activist

Mariel Hemingway

Actress, Author, Entrepreneur & Mental Health Activi...

Robin Givens

Actress, Author & Domestic Abuse Awareness Advocate

Mark Ballas

Dancing with the Stars Champion & Mental Health Acti...

Elizabeth Smart

Abduction Survivor, News Correspondent & Child Safet...

Julia Sweeney

Former SNL Cast Member & Cancer Survivor

Mira Sorvino

Academy Award-Winning Actress & United Nations Goodw...

Suzanne Somers

Celebrity Alternative Medicine Advocate, Author & Br...

Linda Armstrong Kelly

Single Mother of Lance Armstrong; Philanthropist & A...

Sean Astin

Actor, Director, Voice Artist & Producer Known For "...

J.R. Martinez

Actor, Best-Selling Author, Motivational Speaker, Ad...
More like Naomi