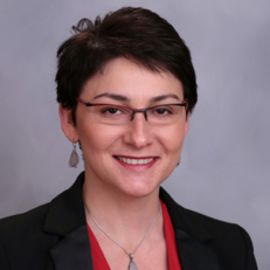 Natalia Levina
Associate Professor at New York University Stern School of Business
Natalia Levina is an Associate Professor at New York University Stern School of Business. Professor Levina teaches courses on Global Sourcing and Open Innovation as well as Information Systems and Organizations Doctoral Seminar.
Professor Levina has been with NYU Stern for over than ten years. Prof. Levina's main research interest is in understanding how people span organizational, professional, cultural and other boundaries in the process of building and using new technology. She uses qualitative and quantitative methods and a range of social and organizational theories in her work. She currently studies boundary spanning in the context of open innovation, crowdsourcing, and offshoring of professional services. Her research has been published in ISR, MIS Quarterly, Organization Science, Journal of Management Information Systems, Academy of Management Journal, Decision Sciences Journal, and other outlets. She received two dissertation awards from ICIS and the Academy of Management conferences and best paper of the track award at ICIS (2006). In 2011, she received a National Science Foundation VOSS Collaborative Grant and New York University Challenge Grant to study open innovation and crowdsourcing intermediaries. In 2007, she received the IBM SUR faculty award to study global sourcing. In 2005, she was awarded the prestigious Alfred P. Sloan Industry Studies Fellowship to investigate boundary spanning in the global IT services industry. Before joining NYU Stern, Professor Levina worked as a senior information architect at Bremer Associates, Inc. and as an applications systems analyst at PSI International.
Professor Levina received her B.A. in Computer Science and Mathematics and M.A.in Mathematics from Boston University. She received her Doctor of Philosophy in Information Technology from Massachusetts Institute of Technology's Sloan School of Management.
Related Speakers View all
---
Bob Moesta

Founder, President & CEO of the Re-Wired Group

Wendy Wood

Psychologist, Provost Professor of Psychology & Busi...

Paul D. Barchitta

Professor, Author, Speaker & Sales Expert

Paul Tiffany

Public Policy, Leadership, & Competitive Strategy Pr...

Gopal RajGuru

Innovation, Leadership Development & Sales Performan...

Roberto Verganti

Professor of Leadership & Innovation at Politecnico ...

Paul Leonardi

Future of Work Expert, Professor and Founding Direct...

Rory McDonald

Expert on Disruptive Innovation and Technological Ch...

Andy Koerner

NFL Financial Advisor, Entrepreneur & Professor at R...

Phillip H. Kim

Professor of Entrepreneurship & Faculty Director of ...

Sunny Sanwar

Founder of Verd2GO

Trevor Hughes

President & CEO of the International Association of ...

Ryan McDevitt

Professor of Economics at the Fuqua School of Busine...

Sean Decatur

President, Kenyon College

Brian Gunia

Author of "The Bartering Mindset"

Andy Molinsky

Professor at Brandeis University's International Bus...

Alex Edmans

Professor of Finance at London Business School & Aca...

John Rapley

Journalist, Political Economist at the University of...

David Gann

Vice President of Innovation at Imperial College Lon...

Howard H. Yu

LEGO Professor of Management & Innovation at IMD Bus...
More like Natalia