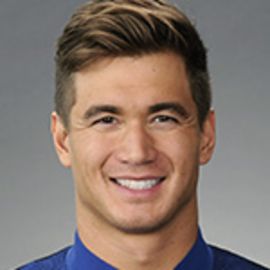 Nathan Adrian
Competitive Swimmer, Three-Time Olympic Gold Medalist, American Record in the Long Course 50-Meter Freestyle
Nathan Ghar-jun Adrian is an American competitive swimmer and five-time Olympic Gold Medalist who formerly held the American record in the long course 50-meter freestyle event.
In his Olympic debut at the 2008 Summer Olympics, Adrian swam in the heats of the 4×100-meter freestyle relay and earned a gold medal when the United States team won in the final. At the 2012 Summer Olympics, Adrian won gold medals in both the 100-meter freestyle and the 4×100-meter medley relay, and a silver medal in the 4×100-meter freestyle relay. He has won a total of thirty-two medals in major international competitions; twenty gold, seven silver, and five bronze spanning the Olympics, the World, and the Pan Pacific Championships. In the 2016 Summer Olympics, along with Michael Phelps, Caeleb Dressel, and Ryan Held, he won a gold medal in the 4x100-meter freestyle relay as well as individual bronze medals in the 50-meter and 100-meter freestyles.
Adrian was born in Bremerton, Washington in 1988. He is the son of James and Cecilia Adrian; his mother Cecilia is Chinese and was born and raised in Hong Kong. Cecilia is a nurse for the Bremerton school district, and his father James is a retired nuclear engineer for the Puget Sound Naval Shipyard. Adrian has an older sister, Donella, who swam at Arizona State University, and an older brother, Justin, who swam at the University of Washington. Adrian started swimming at the age of five because of the influence of his siblings. He graduated in 2006 from Bremerton High School, where he swam for the school team. Adrian matriculated at the University of California, Berkeley in fall 2006, where he majored in public health. He eventually graduated with honors in the spring of 2012. At Cal, Adrian was a five-time individual NCAA champion: Winning the 50-yard freestyle in 2009 and 2011 and the 100-yard freestyle in 2009, 2010, and 2011.
Videos
---