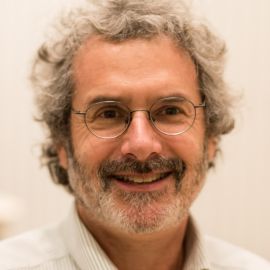 Prof. Neil Gershenfeld is the Director of MIT's Center for Bits and Atoms, where his unique laboratory is breaking down boundaries between the digital and physical worlds, from pioneering quantum computing to digital fabrication to the Internet of Things. Technology from his lab has been seen and used in settings including New York's Museum of Modern Art and rural Indian villages, the White House and the World Economic Forum, inner-city community centers and automobile safety systems, Las Vegas shows and Sami herds. He is the author of numerous technical publications, patents, and books including Designing Reality, Fab, When Things Start To Think, The Nature of Mathematical Modeling, and The Physics of Information Technology, and has been featured in media such as The New York Times, The Economist, NPR, CNN, and PBS. He is a Fellow of the American Physical Society, has been named one of Scientific American's 50 leaders in science and technology, as one of 40 Modern-Day Leonardos by the Museum of Science and Industry, one of Popular Mechanic's 25 Makers, has been selected as a CNN/Time/Fortune Principal Voice, and by Prospect/Foreign Policy as one of the top 100 public intellectuals. He's been called the intellectual father of the maker movement, founding a growing global network of over one thousand fab labs that provide widespread access to prototype tools for personal fabrication, directing the Fab Academy for distributed research and education in the principles and practices of digital fabrication, and chairing the Fab Foundation. Dr. Gershenfeld has a BA in Physics with High Honors from Swarthmore College, a Ph.D. in Applied Physics from Cornell University, honorary doctorates from Swarthmore College, Strathclyde University and the University of Antwerp, was a Junior Fellow of the Harvard University Society of Fellows, and a member of the research staff at Bell Labs.
Videos
---
Related Speakers View all
---
Vinton Cerf

Vice President & Chief Internet Evangelist for Google

Daniel Burrus

Technology Futurist, Business Strategist & Hall of F...

Apollo Robbins

Sleight-of-Hand Artist and Self-Described Gentleman ...

Thomas Pogge

Philosopher Thomas Pogge wants to ensure medications...

Shawn Achor

Harvard Professor, Researcher & Positive Psychology ...

Clay Shirky

Expert on New Technology & Social Media, & How They ...

Professor Richard Dawkins

English Ethologist, Evolutionary Biologist, Charles ...

David Pogue

Host of NOVA ScienceNow & Yahoo Tech Columnist

Kevin Allocca

Head of Culture & Trends at YouTube

Robert Cialdini

CEO & President of Influence at Work; Leading Expert...

Sherman Alexie

Poet, Short Story Writer, Novelist, and Performer

Jon Bergmann

Pioneer of the Flipped Class Movement & Bestselling ...

Mitch Resnick

Mitchel Resnick is LEGO Papert Professor of Learning...

Eleanor Longden

Mental Health Advocate & Speaker; Postdoctoral Servi...

Shane Koyczan

Spoken-word poet and musician, most recognizable for...

Diana Reiss

A professor of psychology at Hunter College and in t...

Peter Hinssen

Cloud Computing & Technology Expert, Thought Leader ...

Mike Vardy

Productivity and Time Management Specialist | Writer...

Dr. Kevin Fleming

NY Times Cited Expert & Neuro Guru

Greg Montana

The Quantum Monk will inspire your audience to tears...
More like Neil