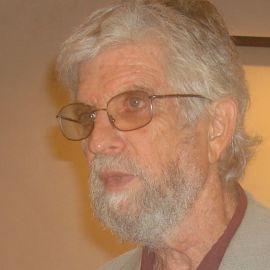 Neil Hollander
The American writer, film director and producer, journalist Neil Hollander used to be one of the few sailor who using the bygone working sail has sailed across the Atlantic, Pacific and Indian Oceans.
American film director, producer and screenwriter Neil Hollander is best known for writing and directing documentary movies such as Goldlust, Riding the Rails, Under the Radar: Burma and much more. He is also author of several books like The last sailors, Elusive Dove, Great Zoo Break, The yachtsman's emergency handbook and other. For his work Hollander has been nominated for several awards. He has also directed Nobel Voices, a project that offers a collection spoken-word recordings by the most prominent advocates for peace during a century of war and bloodshed.
Early Life and Career
Author, director and producer Neil Hollander was born on July 9, 1939, in Brooklyn, New York. The son of a workers, Hollander attended RISD high school. After there, he enrolled at the University of Wisconsin, from where he holds a BA.
Film Career
Hollander's first film, which he both wrote and directed, was the Riding the Rails, a coming-of-age story that takes place inside the taboo world of Hobo culture. Next, he wrote and directed 1984's The Last Sailors, a documentary film that followed after several years spent on open sea, sailing across the Pacific Ocean.
In 2002, Hollander followed up with another documentary, Sea Devils, in which he successfully transformed Harald Mertes into an sailor. For that one he won the Director's Guild of America Award. Hollander's most ambitious work to date, 2009's H for Hunger, was loosely based on 90 minute monologue brilliantly performed by actor and musician Henry Rollins.
Hollander continued to present layered work with the 2010 Under the Radar: Burma and next year's Burma: A Human Tragedy. Another documentary that show the human tragedy of the people vining in country repressed by the military government.
Videos
---
Speech Topics
---
Atlantic, Pacific and Indian Oceans
Travelling through the oceans of the world
Related Speakers View all
---
Scott Shellstrom

Creativity Innovator, Award Winning Creative Directo...

Dr. Alison Thompson

Humanitarian & Author of The Third Wave

Igor Beuker

World Authority on Marketing and Media

Gbadebo Odularu

PhD Economist keen on deploying data science to solv...

Shawn Rene Zimmerman

Professional Fitness Model and Celebrity Trainer

Michael Rogers

MSNBC's 'The Practical Futurist' & Technology Expert

Jeremy Rifkin

Leading Global Technologist, Futurist, Authority on ...

Daniel Burrus

Technology Futurist, Business Strategist & Hall of F...

Leah Thomas

Intersectional Environmentalist

Claudia Effe

Trauma Psychotherapist, turned writer by the biggest...

Stephanie Shyu and Lydia Fayal

Co-Founders of AdmitSee

Amber J Lawson

Doing Good At Scale, Global motivational speaker on ...

Rachel Fine

Howard Stern Show / Watch Rachel on Howard Stern's "...

Louis-Philippe Loncke

European Adventurer 2016, Explorer, Motivational Spe...

Chris Bashinelli

United Nations Speaker; National Geographic Young Ex...

Danny Mekić

Technology Expert, and "most successful Dutch young ...

Lakshmi Karan

Executive Director, Genentech Foundation and Directo...

Bryan Crump

Covering Topics like Creativity, Inspiration, Goal S...

Dr. Anthony Fauci

Director, National Institute of Allergy and Infectio...

Liz Nead

Executive Business & Life Coach
More like Neil