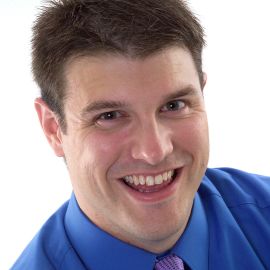 Neil Ihde
Founder of Life IQ and Type IQ Consulting, Keynote Speaker
Neil Ihde is a speaker, lecturer, consultant and founder of his own company where he motivates groups and individuals to work, play, relate and live intelligently. Neil Ihde has worked with numerous managers, directors, corporate leaders, and teams to improve their personal and professional effectiveness. Neil's experience in the workplace includes small, medium, and large corporate environments as well as government, nonprofit, education, healthcare and entrepreneurial.
In addition to consulting with organizations such as Wal-Mart, Merrill Lynch, BASF, Sun, Girls Scouts and New York's Office of the Attorney General, Neil Ihde has also consulted internationally with clients from a dozen different countries.
Neil Ihde has attained Master Practitioner status as a Myers-Briggs Type Indicator® Consultant and has worked with many groups using this effective personality tool. Neil Ihde was recently a personality contributor to Woman's World magazine.
Neil's academic background includes a B.A. in Psychology, a B.A. in Sociology and an M.A. in Counseling.
Videos
---
Speech Topics
---
10 Mistakes New Managers Make...And How to Avoid Them
First impressions are everything. Nowhere is that more true than for the new manager. Not only are you in a new position with new responsibilities, you are learning on the fly while on stage with your employees watching and analyzing your every move. This talk delves into the most common mistakes made by new managers, examining why they happen and how to avoid them. It is critical that new managers understand the common pitfalls and avoid setting precedents that can come back to haunt them down the road. Too many mistakes too soon and your ship is sunk before you've had a chance to set sail.
5 Characteristics of Successful Organizations
Have you ever been guilty of complaining? Of course! Me too. But what I've found is that great organizations don't tolerate complaining unless it is productive...unless there is a commitment to critically examine our complaints, look for solutions, find the facts, and exhibit the courage to question assumptions and have tough conversations. And as I examined successful organizations, it was amazing to see how the presence of a couple characteristics made it that much easier to engage in the others. This topic invites you to examine where your organization is at and offers opportunities for employees to have productive conversations on how they can contribute to a successful culture.
4 Secrets to Becoming a S.T.A.R. - Hot to Attain Success in Your Personal and Professional Life
It's amazing to me how uncomfortable individuals get when asked about their greatest strengths, their passions, their dreams. They are unsure how to answer the question. They may stammer, offer up some modest goals, or begin to list off their less-than-desirable qualities. How would you answer that question? Have you considered it before? One of the secrets to professional success hinges on your ability to identify your weaknesses and strengths. Another secret involves tapping into your dreams and discovering your potential to make it a reality. Take a look at the successful people around you and you'll find these four characteristics in all of them.
Myers-Briggs Type Indicator: Interpreting Your Leadership Personality
International leadership guru, Marcus Buckingham, recently tweeted, "No data shows leaders share the same traits. Data shows only that leaders create the same (few) outcomes in their followers differently." So, what's your leadership style and personality? Here's your chance to explore the Myers-Briggs Type Indicator (MBTI), the most utilized personality instrument in the world. You will leave this session with a better understanding of yourself, a better understanding of how to relate and communicate with those around you, and, most importantly, clear insight into your leadership style. We will explore the background and theory of the MBTI. We will look in depth at the four dichotomies that make up your MBTI type (Extraversion-Introversion, Sensing-Intuition, Thinking-Feeling, Judging-Perceiving). And we will help you understand your natural leadership gifts and preferences. Don't miss this dynamic, interactive, and enriching session!
5 Decisions That Can Make or Break Your Life
How does it feel to make a wrong decision? Well, at the time, it feels a lot like making the right decision. We don't set out to consciously make bad decisions, but when we look back at some of the disastrous decisions we've made, we wonder how we could have been so far off in our appraisal. Each of us make hundreds of decisions a day...hit the snooze, what to wear, what to eat, each and every verbal and nonverbal response, etc. But there are some decisions that are different than others. There are some decisions that carry much different consequences, and yet we seem to treat some major life decisions with the same amount of thought we put into the question, "Paper or plastic?"
Setting the Stage for Healthy Conflict
It is a fact that if you combine people, a common environment, and enough time there will be conflict. It is not a possibility, but an inevitability. We must then learn to plan, prepare, and manage this conflict in a healthy manner. We can start this process by understanding and extolling the benefits of having and mining for conflict.
Related Speakers View all
---
Bill Treasurer

Bill Treasurer is the Founder and Chief Encouragemen...

Conor Cunneen

James Joyce meets Tom Peters- Substance with Humor

Jones Loflin

Internationally-Recognized Author & Speaker on Chang...

Jeff Tobe

Customer Experience Expert

Dr. Judith Wright

Inspirational Speaker, Trainer, Life Coach & Best-Se...

Kaala Souza

Motivational Speaker and Trainer on Customer Service...

Vicki Hess, RN, MS, CSP

Employee Engagement Expert

Michael Karpovich

Motivational Keynote Speaker and Accredited School S...

James Morack

Dedicated to helping people bridge the gap between h...

Ross Bernstein

Inspirational Speaker; Bestselling Sports Author

Brad Montgomery

Humorist, Motivational Speaker, Publisher & Author

Kevin Sweeney

Decorated Combat Pilot, Fortune 50 Executive, All-Co...

Arnold Sanow

Nationally Renowned Business, Communications & Peopl...

Scott McKain

Customer Experience Expert & Best-Selling Business A...

Mark Mayfield

Corporate Motivator & Inductee to the Speaker Hall o...

Yvan J. Garcia

I am an extremely motivated individual who likes to ...

Juliet Funt

Founder, Owner & CEO of WhiteSpace at Work

Michael Broome

Motivational Speaker on Balanced Life & Values; Stre...

Jon Bergmann

Pioneer of the Flipped Class Movement & Bestselling ...

David McLauren Ph.D.

Increase profit and productivity through diversity. ...
More like Neil