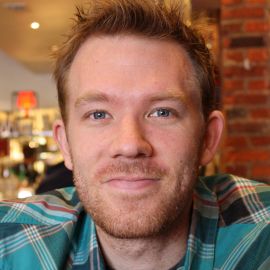 Nelson Dellis is one of the leading memory experts in the world, traveling the world as a memory consultant and keynote speaker. A four-time USA Memory Champion, mountaineer, and Alzheimer's disease activist, he preaches a lifestyle that combines both mental and physical fitness with proper diet and social involvement.
Born with an average memory, Dellis was inspired by the passing of his grandmother from Alzheimer's disease in 2009 to start training his memory so that he could keep his mind strong and healthy throughout his lifespan. In a short period of time, he transformed into one of the leading memorizers in the world, claiming two U.S. titles along the way, as well as U.S. memory records for tasks including memorizing the most digits in five minutes and memorizing a deck of cards in the fastest time.
Dellis is the founder and CEO of Climb For Memory, a nonprofit charity that aims to raise awareness and funds for Alzheimer's disease research through mountain climbs all around the world. Dellis has climbed numerous peaks for this cause, including Mount Everest. A graduate and part-time professor from the University of Miami in Physics and Computer Science, Dellis strives to teach the world how to memorize properly and how people can use more of their brains to become better and healthier versions of themselves.
Dellis was a contestant on "Superhuman," the American version of The Brain, making it to the finals of his episode by memorizing bank vault codes and then having to open them from memory while being suspended from the ceiling.
He has been featured on "The Katie Couric Show," "The TODAY Show," CNN.com, "The Dr. Oz Show," The Science Channel, and National Geographic Magazine, among many other media outlets.
Born in Wimbledon, UK, Dellis was brought up between Miami, London, and Paris. He holds a bachelor's degree in physics from the University of Miami, as well as a master's degree in computer science, also from the University of Miami.
Speech Topics
---
Instructional: Memory and how to improve it
Inspirational: My journey to becoming the best memorizer in the world (goal setting, being inspired, pushing the limits)
Inspirational: My journeys to the top of the world (climbing mountains, goal setting, pushing the limits)
Related Speakers View all
---
Story Musgrave, M.D.

Retired NASA Astronaut; Physician & Professor at Art...

Stephen Koch

Professional Speaker, Climber, Snowboarder & Mountai...

Jake Norton

World-Renowned Climber, Photographer & Humanitarian

Lene Gammelgaard

est-Selling Author, Leadership Trainer & Danish Adve...

Ed Viesturs

Mountaineer, Known as One Of the U.S.'s Foremost Hig...

Chris Davenport

Big Mountain Skier & Mountaineer

Conrad Anker

Mountaineer & Captain of The North Face Climbing Tea...

David Breashears

Everest Adventurer, Filmmaker & Senior Lecturer at M...

John Amatt

Mountaineer, Founder & President of One Step Beyond ...

Heath Calhoun

Alpine Skier & Veteran of the United States Army

Vince Poscente

Former Olympic Speed Skier, Leadership & Sales Exper...

Vince Papale

Former NFL Player & Inspiration for the Movie "Invin...

Shannon Miller

Olympic Gold Medalist, Health Advocate & Cancer Surv...

Dave Dravecky

Former Professional Baseball Player; Cancer Survivor...

Jimmy Chin

Climber, Photographer & Filmmaker

Scott Parazynski

Astronaut, Physician & Everest Summiter

Ray Zahab

Ultra-marathon Runner and Adventurer; Host, "The Pro...

Cathy O'Dowd

The First Woman in the World to Climb Mt. Everest fr...

Tony Hawk

Professional Skateboarder; Entrepreneur; NY Times Be...

Mike Eruzione

Captain of the 1980 US Olympic Hockey Team & Subject...
More like Nelson