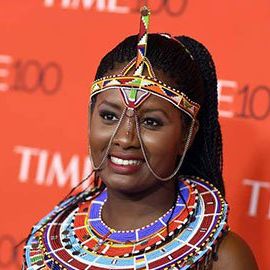 Nice Nailantei Leng'ete
Project Officer & Anti-Female Genital Mutilation or Cutting Global Ambassador for Amref Health Africa; Humanitarian; TIME 100 Most Influential People
A Maasai woman from Kenya, Nice Nailantei Leng'ete challenged social norms in her community to end the harmful practices of Female Genital Mutilation (FGM, also known as Female Genital Cutting or FGC) and child marriage. Through her own efforts, and with the support of Amref Health Africa, Ms. Leng'ete educated elders, boys and the young men (known as Morans) with new messages about sexual and reproductive health and rights. She worked with the whole community to eliminate the practice of FGM/C and replace it with alternative rites of passage for girls that maintain the cultural celebration of the transition to womanhood without FGM/C.
Ms. Leng'ete is a respected community advocate and a recognized global youth leader. In April 2018, she was named to the TIME 100 list of the most influential people in the world. In February 2018 she was chosen as a Women Deliver Young Leader and in March 2018 she received the Annemarie Madison Prize. A recipient of the 2016 Mandela Washington Fellowship for Young African Leaders, as well as the 2015 Inspirational Woman of the Year Award from the Kenyan Ministry of Devolution, Ms. Leng'ete has been singled out as an innovative change maker dedicated to advancing gender equality.
News
---
NICE NAILANTEI LENG'ETE
As a Maasai child in Kenya, Nice Nailantei Leng'ete accomplished something remarkable: she escaped the cut, her culture's ritualized female genital mutilation.