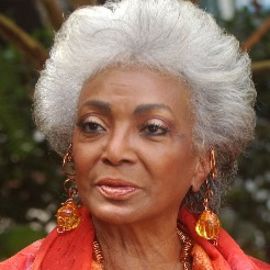 Nichelle Nichols began her professional singing and dancing career in her home town, Chicago, at the tender age of 14. As a teenager she was discovered by the great Duke Ellington, who hired her to choreograph and perform a ballet for one of his musical suites, and finished the tour as his lead singer. Nichelle has performed in the U.S., Canada, and Europe, including guest artist with Lionel Hamptons band.
When Nichelle was cast by Gene Roddenberry to create Chief Communications Officer Lt. Uhura, fourth in command of the Starship Enterprise, in his legendary TV series Star Trek, in the words of Dr. Martin Luther King, it became The first non-stereotypical role portrayed by a black woman in television history. Nichelle subsequently co-starred in six blockbuster Star Trek motion pictures and is still in constant demand to appear before millions of Trekkers who keep the dream alive around the world.
Among her many notable TV and film credits, she co-starred with Cuba Gooding Jr. and James Coburn in the Disney motion picture Snow Dogs, with Ron Perlman and Daniel Riordan in the TV film Captain Zoom in Outer Space, and with Maxwell Caulfield and Levar Burton in the Sandy Howard film The Supernaturals, as well as singing and dancing with Sammy Davis Jr. in Porgy and Bess. Nichelle also co-starred on the NBC blockbuster television series Heroes as Micahs grandmother Nana in the New Orleans storyline during Season 2.
Nichelles recent work in several independent features has allowed her to portray other challenging and varied characters. Among them, This Bitter Earth with Billy Dee Williams and Richard Roundtree, Tru Loved, co-starring with Jasmine Guy, The Torturer, a powerful three-character film/play that examines the psychological effect of our presence in Iraq, and Lady Magdelenes, in which Nichelle both starred and Executive Produced. Lady Magdalenes also showcases Nichelles talent as a singer and songwriter with two of her original compositions being used in the film.
She was twice nominated for the coveted Sarah Siddons Award for Best Actress for her performances in the theatre productions of Jenets The Blacks and the Oscar Brown Jr. musical Kicks and Company. She starred in the touring Broadway hits, Horowitz and Mrs. Washington, and Nunsense II. In her one-woman show, Reflections, she becomes twelve legendary female entertainers, using her beautiful three-octave vocal range to rave reviews.
Nichelle was guest soloist with the Erie Pennsylvania Philharmonic Orchestra for their 80th Anniversary Celebration as well as the solo artist with the Symphony Orchestra of the California State University-Northridge, where she previously was commencement speaker for their School of Arts.
Nichelle was awarded her much deserved star on the Hollywood Walk of Fame on January 9, 1992. Just a few weeks before she became the first African-American to place her handprints and signature in the cement walk at the famous Manns (Graumans) Chinese Theatre along with her other command crew members of the Starship Enterprise who were also honored in a special exhibit at the Smithsonians National Air and Space Museum in Washington DC, an unprecedented accolade for the entertainment industry.
Nichelles autobiography Beyond Uhura, her first sci-fi novel Saturns Child and its sequel Saturnas Quest received critical acclaim. Nichelle was conferred a Doctor of Arts, honoris causa, from Marywood College on their 80th anniversary at which she delivered the commencement address. In July 2002 she was inducted as an Honorary Member of Alpha Kappa Alpha Sorority.
Nichelles public service activities have been equally outstanding. In 1977 and 1978, under contract to NASA, Nichelle successfully recruited the first women and minority astronauts for the Space Shuttle Program, for which she received NASAs distinguished Public Service Award for her pioneering efforts. She serves as a member of the Board of Governors of the National Space Society. Nichelle continues to be a staunch supporter of Dr. Mae Jemison, the 1st woman of color astronaut, and Dr. Jemisons formidable youth foundation The Earth We Share. In 2004 Nichelle was selected as one of the International Human Rights Consortiums Fete dExcellence Laureates.
NASA and Nichelle are once again working together. Their focus is on President Obamas STEM Initiative which encourages Americas youth to pursue studies in Science, Technology, Engineering, and Math as the US once again takes leadership in the advancement and exploration of space . At the behest of NASA Nichelle has joined with Ivor Dawson, the Founder of the Traveling Space Museum, to make appearances at numerous schools as well as NASA Ames Research Center in California, Johnson Space Center in Houston TX, Cape Kennedy in Florida, and NASA Headquarters in Washington DC to support STEM education and other youth oriented programs.
Books
---
Related Speakers View all
---
Shannon Purser

Actress Known for "Stranger Things" & "Riverdale"

F. Gary Gray

Director, Film Producer, and Actor; Best Known for D...

Bethany Joy Lenz

Actress, Singer-Songwriter & Filmmaker; Known For "O...

Kandi Burruss

Singer, Songwriter, Producer & Star of "The Real Hou...

Dee Snider

Daniel "Dee" Snider is an American singer-songwriter...

Nikki Deloach

Ashlee Nicole "Nikki" DeLoach is an American actress...

Dannii Minogue

Singer, Songwriter, Actress, Fashion designer

Janelle Monáe

Singer-Songwriter, Rapper & Actress

Amanda Seyfried

Actress Known For Her Roles in "Mean Girls," "Les Mi...

Demi Lovato

Grammy Nominated Singer-Songwriter, Musician, Philan...

Donald Glover

Award-Winning Actor, Comedian, Writer, Director & Mu...

Rye Rye

Rapper, Singer, Dancer & Actress

Raven Symone

Actress & Singer Known for "That's So Raven"

Anika Noni Rose

Actress & Singer; Voice of Princess Tiana

Common

Award-Winning Artist, Actor, Producer, Musician & Wr...

Antoine Fuqua

Film Director and Producer; Best Known for "Olympus ...

Sigourney Weaver

Golden Globe-Winning Actress & Environmentalist

Ben Vereen

Tony Award-Winning Entertainer

Tyrese Gibson

R&B Singer and Actor; Fast and Furious Franchise

Jennifer Lopez

Actress, Recording Artist, Dancer & Philanthropist; ...
More like Nichelle