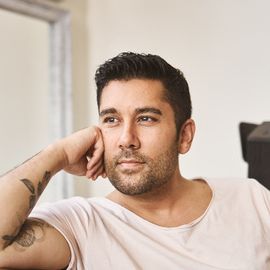 Nicholas Pratley
Creator of Energetic Intelligence, Wellness Advocate & Holistic Lifestyle Expert, Licensed NLP Therapist, Motivational, Social & Emotional Intelligence Coach
Nicholas Pratley is a licensed Neuro-Linguistic Therapist (SNLP) and Breathwork Expert (Inspired Breathwork) with over 20 years' experience as a dynamic leader in the field of wellness and transformation. His mission is to impact the world by profoundly shifting culture through his body of work, Energetic Intelligence, which reconnects us to our energy and true personal power. Heart-centered and loving, Nicholas approaches his life and work with intention and presence. He also serves as the Chief Cultural Officer of KINRGY by Julianne Hough. Nicholas lives in Los Angeles with his amazing partner, Jeff, and their magical daughter, Ava.
Videos
---
Speech Topics
---
Wellness & Transformation
True wellness is a dynamic experience that emerges when we release the power of our bodies by taking a holistic approach to healthcare, placing the focus on the necessity of self-care guided by the inherent wisdom of nature. Wellness is not a fad. It is a way of life that can lead us to the immense joy and vibrance we are all looking for. This pathway requires transformation. It demands that we show up for ourselves, each other, and the planet. When wellness meets transformation, a profound shift occurs, thereby empowering us to impact an entire generation.
Energetic Intelligence
Consciously, or unconsciously, we are reacting to energy countless times a day. This feels good, that does not. I sense I should do that now, not later. I'm choosing to drive down this street, not that one. The fabric of life calls us to listen, to sense, to react, and yes, to play with the energy of the human experience and all that is. When we learn how to understand this, as well as navigate through life energetically, we activate our Energetic Intelligence and a whole new way of being is realized.
The Integrated Human
From the moment we are born we get plugged into programs that dictate what we should do or say, what work we should pursue, what's acceptable and appropriate, what looks good – the list goes on. Before we have even had a chance to decide who we are, we are told who we are going to be. Being brave enough to dive into the emotional, generational, and energetic archaeology of our lives can redefine what it means to be a fully integrated human being - one that serves the world on purpose.
Mindfulness & Resilience
The practice of mindfulness is deeply enriching and incredibly powerful. Ancient wisdom meets a modern perspective when we understand our warrior nature has programmed us to be empowered. We are greatness by design. The practice is an artform that activates our true resilience leading us to the clarity waiting within.
Mental & Emotional Health, Intelligence & Stability
We are living in an age where the onslaught of consumerism, capitalism, and validation disconnect us from our natural state, the ultimate truth, and the limitless possibility of who we really are. Our mental and emotional health is more compromised than ever, with astounding statistics asserting our lack of well-being across the board. As we learn how to nurture these aspects of our health, we can then discover how to cultivate our intelligence and stabilize individually, collectively and globally.
Related Speakers View all
---
Mona Sharma

Entrepreneur, Celebrity Wellness Educator & Holistic...

Dr. Kristen Lee

Award-Winning Behavioral Science Expert & Clinician;...

Laura Saltman

Emmy-nominated Producer & Correspondent; Expert & Co...

Seane Corn

International Yoga Teacher & Activist

Stephanie Wagner

Holistic Health and Well-being Coach, Healthy Minds ...

Libby Rapin

Mindfulness & Meditation Coach, World Explorer

Tom Voss

U.S. Army Combat Veteran, Mental Health & Holistic H...

Chris Schembra

USA Today's "Gratitude Guru", Best-Selling Author of...

Ryan Gottfredson

Mindset Author, Researcher & Consultant

Meik Wiking

CEO of The Happiness Research Institute

Shawn Achor

Harvard Professor, Researcher & Positive Psychology ...

Dominique Dawes

Olympic Gold Medal-Winning Gymnast, Former Co-Chair ...

Jessica Carson

Author of "Wired This Way" & Director of Innovation ...

Cathi Marcus

ICF Certified Spiritual Life & Business Coach, Story...

Joe DiStefano

Wellness Expert, Entrepreneur & Coach

Dr. Christian Conte

Nationally Acclaimed Mental Health Specialist

Brad Stulberg

Health & Human Performance Writer, Co-Author of "Pea...

Amelia Rose Earhart

President of the Fly With Amelia Foundation; One of ...

Rick Hanson, PhD

Neuropsychologist Senior Fellow of the Greater Good ...

Aarti Sequeira

Award-Winning Producer, Journalist & Food Personality
More like Nicholas