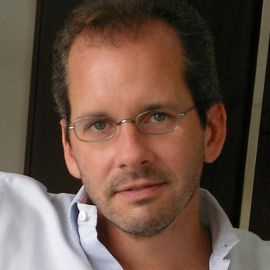 Nicholas Quinn Rosenkranz is a Professor of Law at Georgetown, where he teaches constitutional law and federal courts. He writes articles for the Harvard Law Review and the Stanford Law Review. He holds a B.A. and a J.D. from Yale University.
Rosenkranz is currently developing a new theory of constitutional interpretation and judicial review. The first installment, entitled The Subjects of the Constitution, was published in the Stanford Law Review in May of 2010, and it is already the single most downloaded article about constitutional interpretation, judicial review, and/or federal courts in the history of SSRN. The second installment, The Objects of the Constitution, was published in May of 2011, also in the Stanford Law Review. And the comprehensive version is forthcoming as a book by Oxford University Press.
Rosenkranz has served and advised the federal government in a variety of capacities. He clerked for Judge Frank H. Easterbrook on the U.S. Court of Appeals for the Seventh Circuit (1999-2000) and for Justice Anthony M. Kennedy at the U.S. Supreme Court (October Term 2001). He served as an Attorney-Advisor at the Office of Legal Counsel in the U.S. Department of Justice (November 2002 - July 2004). He often testifies before Congress as a constitutional expert — most recently before the Senate Judiciary Committee, regarding the nomination of Justice Sotomayor. He has also filed briefs and presented oral argument before the U.S. Supreme Court. His most recent Supreme Court brief was on behalf of the Cato Institute.
Rosenkranz is a member of the New York Bar and the U.S. Supreme Court Bar. He is an Associate Fellow of Pierson College at Yale University. He also serves on the Board of Directors of the Federalist Society.
Videos
---
Related Speakers View all
---
George P. Bush

Politician & Land Commissioner of Texas

Don Gonyea

Don Gonyea, NPR National Political Correspondent, ba...

Jason Mattera

Emmy-Nominated Journalist, Conservative Activist & A...

Simon Lester

Trade Policy Analyst, Herbert A. Stiefel Center for ...

Walter Olson

Senior Fellow

Christopher C. Horner

Former Senior Fellow at the Competitive Enterprise I...

Steve Clemons

Editor-at-Large at The Hill; Former Editor-in-Chief ...

David Boaz

Executive Vice President, Cato

David Addington

David Addington, a controversial former aide to Vice...

Michael Smerconish

Independent Political Analyst; Host of "The Michael ...

Michael D. Brown

Former Under Secretary of Homeland Security, Directo...

Gene Healy

Vice President, CATO Institute

Daniel J. Ikenson

Associate Director, Cato's Center for Trade Policy S...

David Limbaugh

Attorney, Conservative Columnist & Author

Mike Huckabee

Politician, Former Governor of Arkansas & Host of TB...

Richard Thornburgh

Lawyer & Former Attorney General

Ben Stein

Political Economist, Commentator, Author & Actor

George Ross

Trump's Right Hand Man

Jeanine Pirro

Lawyer, Prosecutor & Politician; Host of "Justice wi...

Norman Ornstein

Bestselling Author, Political Analyst & Resident Sch...
More like Nicholas