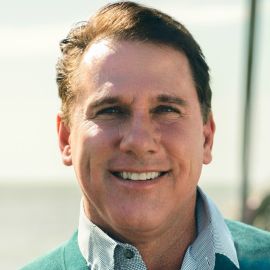 As a child, he lived in Minnesota, Los Angeles, and Grand Island, NE, finally settling in Fair Oaks, CA at the age of eight. His father was a professor, his mother an optometrist's assistant. He lived in Fair Oaks through high school, graduated valedictorian in 1984, and received a full track scholarship to the University of Notre Dame.
After breaking the Notre Dame school record as part of a relay team in 1985 as a freshman (a record which still stands), he was injured and spent the summer recovering. During that summer, he wrote his first novel, though it was never published. He majored in Business Finance and graduated with high honors in 1988.
He and his wife Catherine, whom he met on spring break in 1988, were married in July 1989. While living in Sacramento, he wrote his second novel later that year, though again it wasn't published. He worked at a variety of jobs over the next three years, including real estate appraisal, waiting tables, selling dental products by phone and started his own small manufacturing business which struggled from the beginning. In 1990, he collaborated on a book with Billy Mills, the Olympic gold medalist, and it was published by Feather Publishing before later being picked up by Random House. Though it received scant publicity, sales topped 50,000 copies in the first year of release.
He began selling pharmaceuticals and moved from Sacramento, CA to North Carolina in 1992. In 1994, at the age of 28, he wrote The Notebook over a period of six months. In October 1995, rights to The Notebook were sold to Warner Books. It was published in October 1996, and he followed that with Message in a Bottle (1998), A Walk to Remember (1999), The Rescue (2000), A Bend in the Road (2001), Nights in Rodanthe (2002), The Guardian (2003), The Wedding (2003), True Believer (2005) and its sequel, At First Sight (2005), Dear John (2006), The Choice (2007), The Lucky One (2008), The Last Song (2009), Safe Haven (2010) and The Best of Me (2011), as well as the 2004 non-fiction memoir Three Weeks With My Brother, co-written with his brother Micah.
Safe Haven, filmed in Southport, North Carolina was recently released on February 14, 2013, and marks Sparks's eighth film adaptation, following The Lucky One, Message in a Bottle, A Walk to Remember, The Notebook, Nights in Rodanthe, Dear John and The Last Song, which thus far have a cumulative worldwide gross of nearly three-quarters of a billion dollars.
Nicholas continues to live in North Carolina with his wife and five children. He is an avid athlete who runs daily, lifts weights regularly, and competes in Tae Kwon Do. He attends church regularly and reads about 125 books a year. He contributes to a variety of local and national charities and is a major contributor to the Creative Writing Program (MFA) at the University of Notre Dame, where he provides scholarships, internships and an annual fellowship.
Videos
---