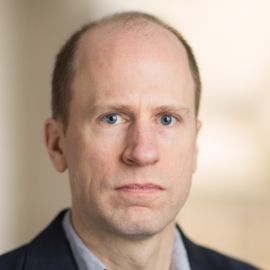 Nick Bostrom
Professor at Oxford University, Director of the Future of Humanity Institute & Strategic Artificial Intelligence Research Center
Nick Bostrom is Swedish-born philosopher and polymath with a background in theoretical physics, computational neuroscience, logic, and artificial intelligence, as well as philosophy. He is Professor at Oxford University, where he leads the Future of Humanity Institute as its founding director. (The FHI is a multidisciplinary university research center; it is also home to the Center for the Governance of Artificial Intelligence and to teams working on AI safety, biosecurity, macrostrategy, and various other technology or foundational questions.) He is the author of some 200 publications, including Anthropic Bias (2002), Global Catastrophic Risks (2008), Human Enhancement (2009), and Superintelligence: Paths, Dangers, Strategies (2014), a New York Times bestseller which helped spark a global conversation about artificial intelligence. Bostrom's widely influential work, which traverses philosophy, science, ethics, and technology, has illuminated the links between our present actions and long-term global outcomes, thereby casting a new light on the human condition.
He is recipient of a Eugene R. Gannon Award, and has been listed on Foreign Policy's Top 100 Global Thinkers list twice. He was included on Prospect's World Thinkers list, the youngest person in the top 15. His writings have been translated into 28 languages, and there have been more than 100 translations and reprints of his works. He is a repeat TED speaker and has done more than 2,000 interviews with television, radio, and print media. As a graduate student he dabbled in stand-up comedy on the London circuit, but he has since reconnected with the doom and gloom of his Swedish roots.
Videos
---
Related Speakers View all
---
Dr. Michio Kaku

World-Renowned Futurist & Theoretical Physicist

Max Tegmark

Cosmic Explorer & MIT Professor of Physics

Damon Horowitz

Philosophy Professor & Serial Entrepreneur, Former I...

Ray Kurzweil

Chairman of Kurzweil Technologies; Inventor; Futurist

Daniel Burrus

Technology Futurist, Business Strategist & Hall of F...

Kai-Fu Lee

Founder, Chairman & CEO of Sinovation Ventures

Sebastian Thrun

Scientist, Educator, Inventor & Entrepreneur

R "Ray" Wang

Founder, Chairman & Principal Analyst at Constellati...

James Lyne

Cyber Security Expert & Information Security Speaker...

Elon Musk

CEO & Product Architect of Tesla Motors; CEO/CTO of ...

Steve Wozniak

Co-Founder of Apple Computer, Inc.

Beau Lotto

Founder & CEO of the Lab of Misfits; Professor of Ne...

Martin Rees

Martin Rees is Professor of Cosmology and Astrophysi...

Shawn Achor

Harvard Professor, Researcher & Positive Psychology ...

Adam Cheyer

Co-Founder and VP Engineering at Siri, Inc., Co-Foun...

Maurice Conti

Chief Innovation Officer at Alpha; Former Director, ...

Michael Stevens

YouTube Sensation; Best Known as Vsauce

Brian David Johnson

Futurist & Director of Future Casting, Intel Corpora...

Tim O'Reilly

Founder and CEO, O'Reilly Media

Cynthia Breazeal

Associate Professor of Media Arts and Sciences, MIT ...
More like Nick