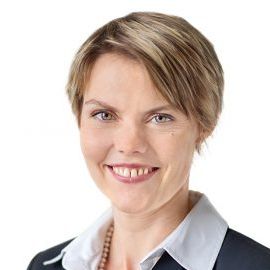 Nicole Röttmer
Founder & CEO of The CO-Firm
Dr Nicole Röttmer is the founder of The CO-Firm. She supports a wide range of clients from the financial services sector and industry. She focuses on developing climate and energy strategies. She assesses the financial impact of risks and opportunities of climate change for investors and lenders of the financial services sector as well as developing strategies, goals and packages of measures for the real economy with regard to energy efficiency and the requirements of a 2°C pathway.
As a Co-CEO of Lumics GmbH und Co. KG (a joint venture of Lufthansa Technik and McKinsey & Company), she was responsible for implementing sustainable change management. Prior to that, she worked for McKinsey & Company in Germany and the US. S he supported industrial, financial services and public sector clients across the globe in strategy development (portfolio, market entry, risk, regulation), organization and efficiency optimizations and product development processes. With regard to energy efficiency, she co-built McKinsey's global service line for energy efficiency and, in cooperation with the Technical University of Munich, co-created McKinsey's learning factory for energy efficiency in Munich. She was a member of McKinsey's operations expert team with a focus on product development and manufacturing. Nicole is and has acted as an expert for the European Commission's Energy Efficiency Financial Institutions Group (EEFIG), UNEP FI, the German government's NKI. She is an advisor to the workgroup "Finance" for the Science-Based Targets initiative, board member of 2° Investing Initiative Germany, and research affiliate of the Smith School of Enterprise and Environment, Oxford and member of the Northern European Partnership for Sustainable Finance's (NEPSF) organizing committee.
She holds a doctorate in strategic management from the University of Leiden and a diploma in economics from the University of Bamberg.
Videos
---