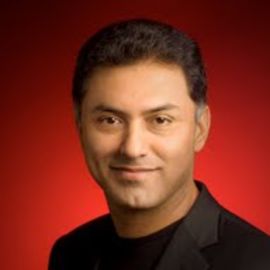 Nikesh oversees all revenue and customer operations, as well as marketing and partnerships. Since joining Google in 2004, he has held several positions with the company. Most recently, he led Google's global direct sales operations. He also developed and managed the company's operations in the European, Middle Eastern and African markets and was responsible for creating and expanding strategic partnerships in those regions for the benefit of Google's growing number of users and advertisers.
Prior to joining Google, he was chief marketing officer and a member of the management board at T-Mobile Europe. While there, he spearheaded all product development, terminals, brand and marketing activities of T-Mobile Europe. In 1999, he started working with Deutsche Telekom and founded T-Motion PLC, a mobile multimedia subsidiary of T-Mobile International. Prior to joining Deutsche Telekom, Nikesh held management positions at Putnam Investments and Fidelity Investments in Boston.
Nikesh holds a master's degree from Boston College and an MBA from Northeastern University, both of which were awarded with distinction. He also holds the CFA designation. In 1989, Nikesh graduated from the Institute of Technology in Varanasi, India with a bachelor's degree in electrical engineering.
Speech Topics
---
global
system cities greece mobile growth government china countries euro
content
news responsibility human rights people monetary corporate governance arab
children
people schools countries education work america folk united state
portugal
india africa mobile forest technology regulation people understanding rural
companies
people information phones technology work internet android computing audience
News
---
Nikesh Arora Putting - Business Insider
The amateurs are either sports stars like Tony Romo, celebrities like Bill Murray, or well-paid executives like Nikesh Arora from Google. Those amateurs tend to ...
Related Speakers View all
---
Larry Page

CEO of Alphabet & Co-Founder of Google

Eric Schmidt

Former Executive Chairman at Alphabet Inc. & Former ...

Sergey Brin

Co-Founder of Google & President, Alphabet Inc.

Dan Ariely

Behavioral Economist; Professor at Duke University; ...

Mark C. Thompson

Executive Coach & Author

Andy Serwer

Managing Editor, Fortune Magazine

Howard Schultz

Executive Chairman & Former CEO of Starbucks, Former...

Tim Sanders

Bestselling Author, Technology Pioneer, Expert on Co...

Geoffrey Moore

Managing Director, Geoffrey Moore Consulting; Ventur...

Marissa Mayer

Former President & CEO of Yahoo!; First Female Engin...

Ray Kurzweil

Chairman of Kurzweil Technologies; Inventor; Futurist

Peter Diamandis

Founder & Executive Chairman of the XPRIZE Foundatio...

Sir Richard Branson

Businessman, Founder of Virgin Group

Jordan Goldman

Named "One of the top young entrepreneurs in America...

Hunter Walk

Currently, Partner at Homebrew. Previously served as...

Sundar Pichai

CEO of Alphabet & Its Subsidiary, Google

Tim O'Reilly

Founder and CEO, O'Reilly Media

Elon Musk

CEO & Product Architect of Tesla Motors; CEO/CTO of ...

Reid Hoffman

Co-Founder & Former Executive Chairman of LinkedIn; ...

Clay Shirky

Expert on New Technology & Social Media, & How They ...
More like Nikesh