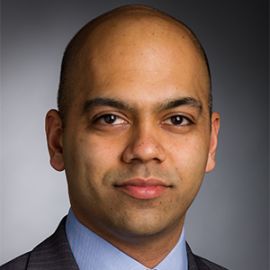 Nikhil Wagle
Director, Count Me In, Broad Institute
Nikhil Wagle is an Assistant Professor of Medicine at Harvard Medical School, a medical oncologist at Dana-Farber Cancer Institute, and an associate member of the Broad Institute of MIT and Harvard. He is the Deputy Directory of the Center for Cancer Precision Medicine at Dana-Farber Cancer Institute. Dr. Wagle leads a translational research program in the field of breast cancer genomics and precision cancer medicine. The goals of his work are to better understand the biology of metastatic breast cancer and to develop new ways to overcome or prevent drug resistance in patients with advanced breast cancer. His research aims to identify characteristics of tumors that might improve clinical decision-making for patients with advanced cancer. He also leads The Metastatic Breast Cancer Project, a nationwide patient-driven research initiative that engages patients with advanced breast cancer through social media and seeks to empower them to accelerate cancer research through sharing their samples and clinical information. The project's outreach program serves to connect thousands of patients around the U.S. with metastatic breast cancer research, allowing them to participate regardless of where they live.
Videos
---
Related Speakers View all
---
Shekinah Elmore

Oncologist; Dedicated to Pursuing Equity & Empathy i...

Dr. Zoltan Lohinai

Pulmonary Oncologist & Researcher at the National Ko...

Corey Casper

Chief Medical Officer at the Infectious Disease Rese...

David Scadden

Co-Director of the Harvard Stem Cell Institute

Dr. Daniel J. Spakowicz

Research Assistant Professor in the Division of Medi...

Haiying Cheng, MD, PhD

Physician-Scientist at Albert Einstein College; Reci...

Dr. Elizabeth Jaffee

Deputy Director of the Comprehensive Cancer Center a...

Andy Schmeltz

Global President and General Manager, Pfizer Oncology

Steven Burakoff

Dean for Cancer Innovation & Chief of Pediatric Hema...

Abdullah Feroze

Neurosurgical resident, Seattle Children's Hospital

Hasini Jayatilaka

Postdoctoral Researcher at Stanford University

John Brownstein

Chief Innovation Officer, Boston Children's Hospital...

Josh Allen

Vice President of Research and Development at Oncoce...

Dr. Laura Esserman

Surgeon & Breast Cancer Oncology Specialist at UCSF;...

Laurie H. Glimcher

President & CEO of Dana-Farber Cancer Institute; Can...

H. Gilbert Welch

Professor of Medicine and Public Policy, Dartmouth C...

David Williams

Professor of Public Health at Harvard University

Ofer Levy

Infectious Disease Specialist

Arlene Sharpe

Professor & Chair of the Department of Immunology at...

Kai W. Wucherpfennig, MD, PhD

Professor, Microbiology and Immunobiology, Harvard M...
More like Nikhil