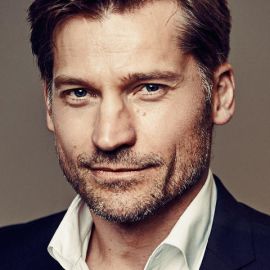 A graduate of the prestigious National Theater School in Denmark, international actor Nikolaj Coster-Waldau's has created a strong foothold in Hollywood.
After leaving his handprint on the European Film and Television industry, Coster-Waldau quickly made his transition to American Cinema. In 2001, Nikolaj began his U.S. career with a starring role in Ridley Scott's critically acclaimed and multi Academy award-winning BLACK HAWK DOWN. Following, he landed a lead role in Michael Apted's ENIGMA co-starring Kate Winslet, Dougray Scott and Saffron Burrows.
Coster-Waldau's charm and incredible range as an actor, prompted many of his previous directors to cast him once again. Ridley Scott brought Nikolaj back for his 2005 epic film KINGDOM OF HEAVEN starring Orlando Bloom, Liam Neeson and Eva Green. Additionally, Richard Loncraine, who first cast Nikolaj in his 2004 film WIMBLEDON alongside Paul Bettany and Kirsten Dunst, brought him back for FIREWALL, a suspense filled thriller starring Harrison Ford.
In 2008, Coster-Waldau made his series debut in the FOX drama, NEW AMSTERDAM, playing immortal detective "John Amsterdam" and was singled out by many as one of the season's breakout stars. He was then seen in FOX's VIRTUALITY, directed by Peter Berg and produced by Gail Berman & Lloyd Braun.
In 2009, he co-starred opposite Ulrich Thomsen in BLEKINGEGADE, a high-profile Danish TV2 mini-series event, based on Denmark's highest profile criminal gang, for TV2 and Zentropa Films. The first of the 5 episodes gave TV2 its highest ratings for 2009.
Coster-Waldau appears in Oscar winning writer Mateo Gil's directorial debut, BLACKTHORN, opposite Sam Shepard, Stephen Rea and Eduardo Noriega. The film, which had its world premiere at the 2011 Tribeca Film Festival, is a follow up to BUTCH CASSIDY AND THE SUNDANCE KID, following an older Cassidy living incognito in Bolivia, planning his last big heist.
In 2011, Coster-Waldau also completed HEADHUNTERS, based on the bestselling writer Jo Nesbø's most recent novel of the same name, which won the Norwegian Book Club Prize for novel of the year in 2008. The film, directed by Award winning director Morten Tyldym, produced by Yellow Bird (GIRL WITH THE DRAGON TATTOO Film Series) is a first class action thriller set in the world of art theft. Coster-Waldau stars opposite Aksel Hennie. Magnolia acquired the film at this year's Cannes Film Festival and will release the film in the US on April 27th, 2012. The film also premiered at the 2011 Toronto Film Festival, where it garnered rave reviews.
Coster -Waldau currently stars in the Guillermo del Toro produced feature MAMA, opposite Jessica Chastain for Universal. Andres Muschietti directed this feature length version of his award winning short film. The film tells the story of a couple who take in their young nieces and nephews found living in the forest for five years. However murderous events begin to unfold and it becomes clear that a supernatural force is intent on claiming the kids. The film opened number one at the box office on January 18th, 2013
Videos
---
News
---
Game Of Thrones spoilers: Nikolaj Coster-Waldau knows something we don't about Jon Snow
It's been the question on every Game Of Thrones fan's lips for months: Is Jon Snow dead? Kit Harington's character, the Lord Commander of the Night Watch, was stabbed 50 times in the season five finale and now Kit's co-star has admitted that Jon is, in fact, dead. 'Listen, he was stabbed 50 times in the heart,' Nikolaj Coster-Waldau told The Jimmy Kimmel Show.
Game Of Thrones Cast Joins With International Rescue Committee
The RESCUE HAS NO BOUNDARIES campaign, led by Emmy-winning actress Lena Headey, along with other Game of Thrones cast members (past and present), including Sophie Turner, Maisie Williams, Nikolaj Coster-Waldau, Liam Cunningham, DeObia Oparei, John Bradley, Tom Wlaschiha, Eugene Simon and Oona Chaplin, urges that the time is now to rescue refugees no matter where they are in the world.