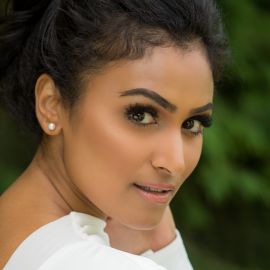 Nina Davuluri is an acclaimed actress, producer, host, advocate, and entrepreneur. She first gained international recognition by becoming the first Indian-American and South Asian to become Miss America 2014.
Her most recent venture combines the network she has cultivated, her love for advocacy, and disrupting global beauty standards by producing her new documentary, COMPLEXion. Raised in a culture sensitive to skin tones, Davuluri was hyper-aware of the skin lightening industry and how it dramatically influences beauty standards. Through advocating for diversity and encouraging others to embrace their identity, she knew it was important to create a platform where people can share experiences on colorism around the world.
Davuluri is no novice to the television and media industry. She is the host and producer of the reality show, "Made In America," which made its series premiere August 2017 on ZeeTV Americas in North America. The premise of the show is to help young women break their own perceptions of beauty and stereotypes as they embark on a new journey to fulfill their dreams in America. Through her experiences as Miss America, she realized how much of a need there was in the marketplace for this type of content to be created for young South Asian millennials.
She has been featured on CNN's "Outfront with Erin Burnett," "Anderson Cooper 360," "Fox & Friends," "The View," MSNBC, "The Arsenio Hall Show," and in media outlets including NPR, BBC World, The Wall Street Journal, The New York Times, and The Washington Post.
Since serving as Miss America 2014, Davuluri has logged approximately 500,000 miles traveling across the world to address an array of audiences on her platform: "Celebrating Diversity through Cultural Competency." As part of her consciousness-raising efforts on behalf of diversity, Davuluri also launched a social media campaign, #CirclesOfUnity, to encourage constructive and civil dialogue on diversity issues. Through her social media channels, Davuluri asks people to share "representative thoughts and stories about their experiences on how we as a nation can advance cultural awareness."
She is proud to have spoken at numerous universities, including Harvard, Princeton, Yale, Duke, University of Pennsylvania, Cambridge University (UK), and the Indian Institute of Technology (IIT) in both Bombay and Hyderabad, spreading her message of inclusion. Davuluri has also taken her platform internationally, speaking in the United Kingdom, Philippines, Canada, Kenya, and India.
In addition to her personal platform, Davuluri also partnered with the U.S. Department of Energy and the U.S. Department of Education promoting women in STEM (Science, Technology, Engineering, and Math) related fields. She has worked with top technology companies such as Google, NASA, Dell, and Texas Instruments in addition to the Sacramento Kings Foundation to further their women in STEM initiatives. Furthermore, she has worked with many charities and NGOs in the U.S. and India advocating for equality and education -- most notably Pratham, Magic Bus, Akshaya Patra, and Girl Rising. With her Indian roots and heritage, Davuluri was the first choice by Indian Prime Minister Narendra Modi's office to be the emcee for his historic Madison Square Garden reception in 2014.
Davuluri's work in advocacy became apparent when she was first recognized by President Barack Obama and former First Lady Michelle Obama. In April of 2014, she was invited to collaborate with the First Lady on her campaign, "Let's Move." She then went on to help launch "Act to Change," an anti-bullying campaign led by the White House Initiative on Asian Americans and Pacific Islanders (WHIAAPI). In July of 2015, she was invited to be a speaker at the Global Entrepreneurship Summit in Kenya during President Obama's historic first visit. She was honored to be the youngest speaker on the main stage sharing her experiences as an entrepreneur and trailblazer in the field of diversity.
In March of 2016, Davuluri embarked on a fourteen-day tour in India that was sponsored by the U.S. Department of State promoting education, women's empowerment, and diversity. She was incredibly proud to return to her homeland of India and focus on key issues between both countries. The tour culminated in an invitation from President Obama to the last Women's History Month reception held at the White House when he served his final year in office.
Speech Topics
---
Diversity
Celebrating Diversity through Cultural Competency
Racism in Social Media: The Twitter Backlash Controversy
Serving as the First Indian-American Miss America
Anti-Bullying
Hiding Behind A Handle: Bullying through Social Media
Embracing Diversity and Connecting through Communication
Science, Technology, Engineering, and Math (STEM)
Importance of STEM Education
STEM: Think Outside the Box
Childhood Obesity, Eating Disorders, and Women's Health
Childhood Obesity Awareness & Prevention
Cross-Cultural Aspects of Eating Disorders
Healthy Lifestyles & Balanced Living
Related Speakers View all
---
Kanya Balakrishna

Co-Founder & CEO of The Future Project

Shiza Shahid

Entrepreneur, Technologist, Investor, Impact Leader ...

Aarti Mann

Indian-American Actress Known for her Role on "The B...

Olympia LePoint

Award-Winning Rocket Scientist, Self-Help Author & H...

Nikki Giovanni

Poet, Educator & Best-Selling Author

Seema Bansal

Education Innovator, Associate Director of Boston Co...

Dileep Rao

Actor Who has Appeared in the Films "Inception," "Dr...

Utkarsh Ambudkar

Actor; Best Known for "Pitch Perfect" & "The Mindy P...

Hari Kondabolu

Stand-Up Comic, Actor, Filmmaker & Podcast Host

Danny Pudi

Actor Best Known for his Role on "Community"

Kimberly Bryant

Founder & CEO of Black Girls CODE

Rebecca Walker

Bestselling Author & Founder of the Third Wave Femin...

Lisa Leslie

WNBA Champion, Olympic Gold Medalist & Author of "Do...

Erin Gruwell

Founder & Executive Director of the Freedom Writers ...

Priyanka Chopra Jonas

Award-Winning Actress, Producer & Humanitarian

Vir Das

Bollywood Actor & Stand Up Comedian

Olivia Jordan

Miss USA 2015; Alzheimer's Awareness Advocate, Actre...

Janina Gavankar

Actress and Author

Aarti Sequeira

Award-Winning Producer, Journalist & Food Personality

Temple Grandin

World-Famous Animal Scientist, Autism Self-Advocate ...
More like Nina