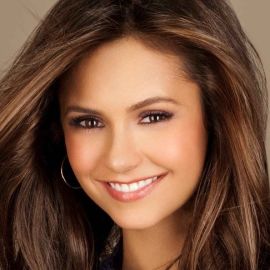 Actress Nina Dobrev is the star of the CW's drama "The Vampire Diaries" from creators Kevin Williamson and Julie Plec. Nina plays 'Elena,' a girl who falls in love with two vampire brothers, one good - the other evil. Nina also plays 'Katherine' Elena's doppelganger, a vampire that the same brothers each loved while they were still human during the American Civil War. The series, which debuted in Fall 2009, is based on a popular Alloy book series of the same title, and is currently the #1 show on the CW.
Nina can next be seen opposite Emma Watson and Paul Rudd in the 2012 Lionsgate film "Perks of a Wallflower" based on the 1999 novel. The film tells the story of an introvert freshman named Charlie who learns everything from drug use to suicide after being taken under the wings of his step siblings. Nina plays Charlie's older sister in the film.
Dobrev can also be seen in Screen Gems' "The Roommate" opposite Leighton Meester. Other past film credits include Atom Egoyan's "Chloe" with Julianne Moore, Amanda Seyfried and Liam Neeson, "Fugitive Pieces" with Ayelet Zurer and Rosamund Pike, Sarah Polley's "Away from Her" with Julie Christie, and the WWII drama "The Poet".
Nina caught the eyes of Hollywood starring in the acclaimed Canadian television series DEGRASSI: THE NEXT GENERATION.
The multi-lingual actress was born in Bulgaria before moving to Canada at the age of two, where she lived in Toronto until moving to the United States at the age of 20.