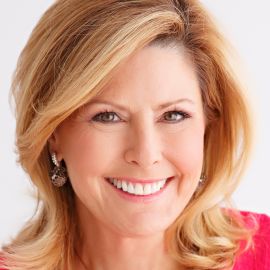 Nina Easton
Chair of Fortune Most Powerful Women International; SiriusXM Radio Host, Award-Winning Columnist & TV Commentator
One of the world's leading interviewers, Nina Easton helps CEOs, global leaders, and cultural icons communicate their vision and stories on stage. With deep economic and political sophistication, she engages speakers and audiences to produce far-sighted conversations on how to navigate today's hyper-speed, disruptive landscape. Her broad portfolio crosses business sectors–from finance and insurance to high-tech and energy–as well as U.S. and geopolitics.
An accomplished political historian and award-winning former Fortune magazine columnist, Nina is founding partner of SellersEaston Media, a firm dedicated to curating stories of leadership and impact. She also co-chairs the Fortune Global Forum, bringing CEOs from around the world together, and chairs Fortune Most Powerful Women International, staging events in Asia, Canada, Europe, and the U.S. She has emceed and moderated events for Fortune 1000 companies and industry associations, including SAP, Accenture, Microsoft, the US Chamber of Commerce, the American Council of Life Insurers, and many others
Nina spent 15 years as a leading political analyst, appearing on such shows as Meet the Press, Face the Nation, and Fox News Sunday. She spent more than a decade as a member of Fox News' prime-time "All Star" panel, providing analysis on presidential administrations, Congress, national elections, the global economy, and foreign policy. At the Center for Strategic and International Studies (CSIS), she founded and hosts the program Smart Women Smart Power, bringing diplomats and global leaders to the stage for insightful interviews.
In 2019, Nina Easton and Pattie Sellers launched a SiriusXM radio show, "Making a Leader" bringing top-name figures on-air in pairs to discuss what it takes to lead in today's complicated business and media world.
Disruptors are surging toward today's businesses at lightning speed and force. The survivors–and thrivers–will be those organizations that ground themselves in human-centered purpose. As Fortune live event veteran and co-founder of the prominent storytelling firm SellersEaston Media, Nina Easton deploys unparalleled interview and narrative skills on-stage (and behind the stage) to help executives shape and communicate vision and mission. As master of ceremonies, moderator, and pre-event adviser, she helps deliver a program that engages and inspires audiences to embrace change and leadership vision.
Speech Topics
---
Five Things You Don't Know About Washington
Everyone knows the nation's capital is mired in political gridlock. Pitched battles over spending, taxes, regulation, immigration, and even jobs, have created an environment of uncertainty--affecting you and the decisions you have to make about your business. In a clear, concise, and entertaining way, veteran analyst Nina Easton takes her audience behind the scenes to explain what is going on and, just as importantly, what to expect.
Why We Should Believe (More) in America (Again)
The 2008 financial collapse, combined with a decade of unwinnable war, has hurt the morale of Americans and our faith in our future. Veteran economic and political analyst Nina Easton shows why America's free market is poised to lead the country into a brighter future, despite a host of very real problems.
The World's Secret Economic Weapon: Women
The research is in, and the results conclusive: Women are a force for prosperity. When women are included in economies, growth happens. Nina Easton, co-chair of the Fortune Most Powerful Women Summit, reveals women as economic engines, contributing to GDP--and thereby poverty reduction for all.
A Practiced and Charismatic Moderator
As co-chair of the Fortune Most Powerful Women Summit, Nina Easton has conducted compelling one-on-one interviews on stage with leading CEO's and political figures--including Condoleeza Rice, Hillary Clinton , Lawrence Summers, Meg Whitman and Olympia Snowe. She is routinely called upon to moderate panels with leading business and government officials--at Fortune events, the Harvard Kennedy School (where she served as a 2012 fellow) and other name-brand gatherings. She is skilled at keeping the on-stage conversation lively, evocative, and compelling while also bringing in voices from the audience.
Related Speakers View all
---
Shiza Shahid

Entrepreneur, Technologist, Investor, Impact Leader ...

Randi Zuckerberg

CEO & Founder of Zuckerberg Media; Bestselling Autho...

Fran Hauser

Media Executive, Startup Investor & Best-Selling Aut...

Jan Fields

Former President of McDonald's USA & Chairman of the...

Katty Kay

Lead Anchor for BBC World News & Best-Selling Author

Reshma Saujani

Lawyer, Politician, Founder of Girls Who Code & Mars...

Marilyn Tam

Best-Selling Author, Consultant, Board Certified Exe...

Gretchen Carlson

Acclaimed TV Journalist & Women's Empowerment Advocate

Ellen Kullman

CEO of Carbon, Former Chair & CEO of DuPont & Former...

Donna Brazile

Veteran Political Strategist, Bestselling Author, Fo...

Andrea Mitchell

Award-Winning Chief Foreign Affairs Correspondent at...

Carly Fiorina

Businesswoman, First Woman to Lead a Fortune Top 20 ...

Barbara Corcoran

Real Estate Entrepreneur, Angel Investor, Author & C...

Eleanor Clift

Author; Washington Correspondent & The Daily Beast C...

Sylvia Acevedo

Former CEO of Girl Scouts of the USA; Entrepreneur A...

Jim Hagemann Snabe

Former Co-CEO of SAP AG; Board member of the World E...

Pat Mitchell

Editorial Director & Host of TEDWomen; Co-Chair of t...

Jessica Herrin

Founder & CEO of Stella & Dot

Muhammad Yunus

Nobel Peace Prize Laureate & Founder of Grameen Bank...

Sheryl Sandberg

COO of Facebook, Bestselling Author & Founder of Lea...
More like Nina