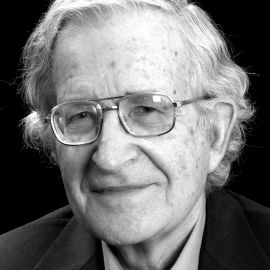 Noam Chomsky, a professor of linguistics and philosophy at MIT, is the author of numerous books on U.S. foreign policy, including American Power and the New Mandarins, Political Economy of Human Rights (two volumes, written with Edward Herman), Fateful Triangle: The United States, Israel, and the Palestinians, and Pirates and Emperors, Old and New: International Terrorism in the Real World. His most recent books are "Failed States" and "Perilous Power."
Chomskys ideas have never been regulated to language alone. His awards for peace and public intellect are just as impressive. In 1967, The New York Review of Books published his essay, "The Responsibility of Intellectuals." In light of the Vietnam War, which Chomsky adamantly opposed, he addressed what he saw as a disgracefully resigned intellectual community, a community of which he was an embarrassed member, with the hope of igniting his peers into deeper thought and action. Weaving between the world of academia and popular culture, Chomsky has gained a reputation for both his linguistic discoveries and his radical ideas.
As a professor, he introduced transformational grammar to the field. His theory asserts that languages are innate and that the differences we see are only due to parameters developed over time in our brains, helping to explain why children are able to learn different languages more easily than adults. One of his most famous contributions to linguistics is what his contemporaries have called the Chomsky Hierarchy, a division of grammar into groups, moving up or down in their expressive abilities. These ideas have had huge ramifications for modern psychology, both raising and answering questions about human nature and how we process information.
Related Speakers View all
---
Sir Richard Branson

Businessman, Founder of Virgin Group

Dan Ariely

Behavioral Economist; Professor at Duke University; ...

Steven Mazie

Associate Professor of Political Studies, Bard High ...

Ray Kurzweil

Chairman of Kurzweil Technologies; Inventor; Futurist

Robert Hormats

Vice Chairman of Kissinger Associates Inc.

Cody Adams

Managing Editor of The Floating University.

Spencer Wells

Geneticist, Anthropologist, Author, Entrepreneur, Ad...

Calvin Trillin

Author, Columnist, Humorist & Political Satirist

Julia Bolz

Women's Rights Activist

An Phung

Multimedia Journalist

Brian Hoffstein

Contributing Writer

Jeffrey Israel

Jeffrey Israel has taught religion and political phi...

Ambassador Dennis Ross

Author, Counselor & William Davidson Distinguished F...

Parag Khanna

Leading Geo-Strategist & Author

Dr. Michio Kaku

World-Renowned Futurist & Theoretical Physicist

Neil Giuliano

Gay Rights Activist & President and CEO of Greater P...

Marina Adshade

Author of "Dollars and Sex: How Economics Influences...

Moby

Musician, DJ, Photographer

Andrew Cohen

Founder, EnlightenNext

Jonathan Haidt

Professor of Ethical Leadership at New York Universi...
More like Noam