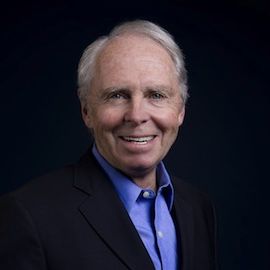 Noel Tichy
Professor, University of Michigan; Director of the Global Business Partnership; Former Head of GE's Leadership Center
Dr. Noel Tichy is a leading authority on management and leadership development. He is a professor of organizational behavior and human resource management at the Ross School of Business and the director of the Global Business Partnership at the University of Michigan.
In the mid 1980s, Dr. Tichy was head of GE's Leadership Center, the fabled Crotonville, where he led the transformation to action learning at GE. Between 1985 and 1987, he was Manager of Management Education for General Electric where he directed its worldwide development efforts at Crotonville.
Dr. Tichy conducts the Cycle of Leadership executive program at the University of Michigan. He has led the launch of the Global Corporate Citizenship Initiative in partnership with GE, Procter & Gamble, and 3M, designed to create a national model for partnership opportunities between business and society emphasizing free enterprise and democratic principles.
He has long been regarded as a staple of management literacy as noted by his rating as one of the "Top 10 Management Gurus" by BusinessWeek and Business 2.0. He is also the author of numerous books and articles, including Cycle of Leadership, Judgment: How Winning Leaders Make Great Calls and The Leadership Engine. His most recent book, co-authored with Warren Bennis, is Succession: Mastering the Make or Break Process of Leadership Transition.
Dr. Tichy has served on the editorial boards of the Academy of Management Review, Organizational Dynamics, Journal of Business Research, and Journal of Business Strategy and was the founding editor and chief of Human Resource Management, co-authored with Warren Bennis. Additionally, he consults widely in both the private and public sectors. He is a senior partner in Action Learning Associates. Prior to joining the Michigan faculty, Tichy served for nine years on the Columbia University Business School faculty.
Videos
---
Speech Topics
---
Front-Line Leadership: Tapping Your Company's Richest Source of Ideas and Innovation
Front-line employees can be your companies greatest asset. As corporations increasingly attempt to differentiate themselves through their service, many are recognizing that the best strategy is creating judgment capability at the front lines, among sales people, service, and call center employees. Companies like Intuit, Mayo Clinic and Zappos are stand-outs for giving front-line leaders the autonomy they need to operate. These people are becoming the vital centers of knowledge about what and how to serve customers better. Unfortunately, most organizations don't know how to evaluate the risk of giving employees more autonomy. Many of those who are willing to try haven't invested the proper resources to ensure that, once the shackles are off, front-line employees make good judgments. It becomes a challenge to find the right balance of creativity and control.
Noel Tichy, along with his co-author Chris DeRose, captures the essentials of creating and sustaining a culture of front-line leadership. Through a systematic process he has successfully employed with dozens of companies, he shows how senior leaders can use their authority to overcome the technical, political, and cultural barriers that stand in the way. Further, he lays out how to get front-line employees and teams to test and refine their own ideas, and then implement and scale-up the improvements enterprise-wide.
Judgment: How Winning Leaders Make Great Calls
Judgment is the key to true leadership. But contrary to popular assumption, judgment is not an inborn trait. Dr. Tichy shares his perspective that judgment is a faculty, a skill that can be developed, expanded, honed, and refined. Moreover, he argues, judgment isn't isolated to the individual. Offering examples of organizations that promote better judgment and reinforce decision making in ways that transcend the individual leader, Dr. Tichy discusses the importance of developing the leadership and judgment skills of a new generation of leaders.
The Cycle of Leadership
Great companies and their leaders spend a great portion of their time giving their learnings to others, sharing best practices, and in turn, learn and receive business ideas/knowledge from the employees they are teaching. Through this "virtual teaching cycle" business builders can create organizations that foster this knowledge exchange, resulting in smarter, more agile companies, and winning results. Dr. Tichy provides the keys to creating companies with strong values, speed and the intelligence to sustain success, decade after decade. Using examples from GE, Ford, Dell, Southwest Airlines and many others, Dr. Tichy presents and analyzes these principles in action and shows how managers can begin to transform their own businesses into teaching organizations and, consequently, better-performing companies.
The Leadership Engine
Winning corporations, without exception, are distinguished by their ability to grow leadership at every level, an ability that ultimately creates a pool of formidable home-grown talent that can be drawn on whenever top management jobs need to be filled. In this presentation, Dr. Tichy reveals how businesses can cultivate this ability by creating a corporate atmosphere that nurtures leadership and initiative. Describing the importance for leaders to develop a "teachable point of view" on business ideas and values, Dr. Tichy offers tools and strategies to help leaders codify and communicate their personal visions throughout the organization.
Related Speakers View all
---
Costas Markides

Business & Strategy Expert

Jon Bergmann

Pioneer of the Flipped Class Movement & Bestselling ...

Vic Strecher, Ph.D. MPH

Founder, JOOL Health; Professor, University of Michi...

Randy Pennington

Entrepreneur, Consultant & Award-Winning Author

Lee Ohanian

Economic Columnist, Professor & Research Director

Robert Tucker

Business Futurist, Innovation Expert & Best-Selling ...

Dr. Kjell Nordstrom

Economist, Writer, and Innovative Speaker

John Wood

Founder & Board Co-Chair of Room to Read; Former Mic...

Nicholas Burns

Professor of the Practice of Diplomacy & Internation...

Dave Logan, PhD

Co-Founder of Care4th LLC & Author of New York Times...

Shawn Achor

Harvard Professor, Researcher, Positive Psychology E...

John Baldoni

Leadership Consultant, Coach & Author

Dr. John C. Maxwell

Leadership Expert & Author

Robert Kriegel

Expert in Sports & Performance Psychology

Steve Farber

Best-Selling Author the Radical Leap; Consultant and...

Bill Rancic

"The Apprentice" Winner; Entrepreneur; Star of "Giul...

Peter Sims

Entrepreneur & Best-selling Author; Known for "Littl...

Garrison Wynn

Comedian & Motivational Business Expert

Mark C. Thompson

Executive Coach & Author

Mark Sanborn

Leadership, Teamwork & Performance Expert; New York ...
More like Noel