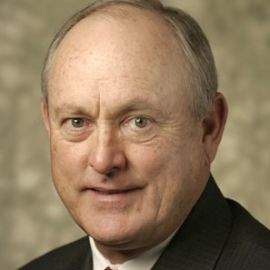 Nolan Ryan
Executive Adviser to the Owner of the Houston Astros & Former CEO of the Texas Rangers; National Baseball Hall of Famer
Lynn Nolan Ryan Jr., nicknamed The Ryan Express, is an American former Major League Baseball (MLB) pitcher and a previous chief executive officer (CEO) of the Texas Rangers. He is currently an executive adviser to the owner of the Houston Astros.
Over a record 27-year career, Ryan pitched for the New York Mets, California Angels, Houston Astros, and Texas Rangers. He was inducted into the Baseball Hall of Fame in 1999.
With the Houston Astros, he pitched his 3,509th career strikeout, becoming the first pitcher to surpass Walter Johnson's 1927 record. Ryan holds the world record for pitching the fastest baseball, recorded at 100.9 miles per hour.
In 1965, The New York Mets drafted Ryan in the eighth round. He began pitching in Marion, Virginia, in the Appalachian Rookie League. In 1966, he was called up to play two games with the Mets, and was the second-youngest player in the league. That year, he was also drafted by the military, and he completed his six-month Army Reserve obligation in 1967. He missed much of that season due to an elbow injury, pitching only seven innings for the Mets' minor league affiliate, the Jacksonville Suns.
Ryan pitched his first full season with the Mets in 1968, and led the Mets to a win against the Baltimore Orioles in the 1969 World Series—Ryan's only World Series appearance. The game was one of the greatest upsets in baseball history, as the Orioles had been projected to win. During that time, the nickname "the Ryan Express" was created by New York media, referencing the movie "Von Ryan's Express."
On December 10, 1971, Ryan was traded to the California Angels. As the team's starting pitcher, he led the American League with 320 strikeouts and nine shutouts. By 1973, he had pitched two no-hitters and set a new major league record for 383 strikeouts, beating Sandy Koufax's record by one.
In 1979, Ryan signed a contract with the Houston Astros for a record $1 million. With the Astros, he pitched his 3,509th career strikeout, becoming the first pitcher to surpass Walter Johnson's 1927 record. In 1989, he joined the Texas Rangers as a free agent, and in 1991, pitched his seventh and last no-hitter.
Ryan retired at age 46, with 5,714 strikeouts. He is the only player in Major League Baseball to have his uniform retired by three different teams, the Angels, the Astros and the Rangers. One of his highest honors is holding the world record for throwing the fastest baseball, which was recorded at 100.9 miles per hour. In 1999, Ryan was inducted into the National Baseball Hall of Fame.
For most of Nolan Ryan's extraordinary career, the fireballing Texan defined the term "power pitcher." Ryan holds numerous major league pitching records, including most strikeouts (5,714), most no-hitters (7), most games with 15 or more strikeouts (26), and most strikeouts in a single season (383). The "Ryan Express" never showed signs of slowing down and became the only pitcher to strike out 16 or more batters after the age of 40, accomplishing the feat three times. Ryan was the first American League pitcher to strike out nineteen men in a nine-inning game (August 12, 1974). Ryan's 27 major league seasons are the most played by anyone in baseball history. Over his illustrious career, the flame-thrower struck out an average of 9.55 batters per nine innings pitched, while allowing opposing batters a meager .204 batting mark.
Videos
---
Related Speakers View all
---
Cal Ripken, Jr.

President & CEO Ripken Baseball, Inc.; Baseball "Iro...

Craig Biggio

Former MLB Second Baseman & Catcher for the Houston ...

Pete Rose

Former Major League Baseball Player & Manager; All T...

Reggie Jackson

Five-Time World Series Champion & National Baseball ...

Troy Aikman

Former Dallas Cowboys Quarterback & NFL Hall of Fame...

Greg Maddox

Baseball Player

Joe Torre

Chief Baseball Officer for Major League Baseball; Na...

Tom Seaver

Most baseball fans will undoubtedly best remember To...

Jim Palmer

Former Pitcher for the Baltimore Orioles & National ...

Bob Gibson

Hall of Fame Pitcher with the St. Louis Cardinals; N...

Roger Clemens

He and his wife, Debbie, make their home in Houston ...

Rickey Henderson

African American professional baseball player

Bethany Hamilton

Professional Surfer & Shark Attack Survivor; Inspira...

Wade Boggs

National Baseball Hall of Famer, 12-Time MLB All-Sta...

Michael Irvin

NFL Hall of Fame Wide Receiver & NFL Analyst

Emmitt Smith

Leading Rusher in NFL History, Three-Time Super Bowl...

Terry Francona

Manager of the MLB's Cleveland Indians; Former Manag...

Jed Hoyer

Manager of MLB's Chicago Cubs & Winning Coach of 201...

Josh Hamilton

Former Outfielder for the Texas Rangers; 5-Time MLB ...

Dave Winfield

National Baseball Hall of Famer & 12-Time MLB All-St...
More like Nolan