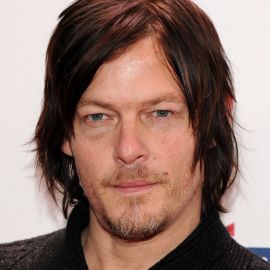 Norman Reedus began acting in Los Angeles theater, making his screen debut with a bit part in Guillermo Del Toro's underrated science fiction thriller "Mimic" in 1997. That same year, he vaulted to leading man status with the indie "Six Ways to Sunday" as a disturbed young man who becomes a hitman to support his mother.
He continued to mine a vein of dark characters in subsequent releases, including "Dark Harbor" and "8mm." That same year, Reedus played Murphy McManus, the more volatile half of two vigilante brothers who dedicated themselves to wiping out crime in Boston in "The Boondock Saints." The film generated enough goodwill among viewers to produce a sequel, "Boondock Saints II: All Saints Day," with Reedus reprising his role. Reedus' feline looks earned him favored nation status as a model for numerous high-end fashion houses, including Prada, among others.The high profile afforded by his work as a model thrust Reedus into the spotlight. Audiences largely avoided his work in indie features such as "Let the Devil Wear Black" as well as studio efforts like "Gossip."
A reunion with Del Toro on "Blade II" gave him a rare break from flops and a choice role as Scud, a young weapon builder who aided Wesley Snipes' vampire hunter in tracking down powerful, mutated bloodsuckers.He returned to minor theatrical efforts like the period gang drama "Deuces Wild" "Octane." Reedus soon settled into supporting roles in features and television, most notably in Ridley Scott's "American Gangster" as a New York police detective, and as a terrified space traveler in "Pandorum."
The year 2010 saw him working largely on television, including a recurring role on the massively popular AMC series, "Walking Dead," as a scurrilous redneck survivor of a zombie plague who risked life and limb to rescue his racist brother after being abandoned by a scouting patrol.
Related Speakers View all
---
Lauren Cohan

Actress; Best Known as Maggie Greene on "The Walking...

Steven Yeun

Actor Known For "The Walking Dead"

David Morrissey

Director and Actor Best known as The Governor on AMC...

Scott Wilson

Best known as Hershel Greene on AMC's "The Walking D...

Andrew Lincoln

Actor; Best Known as Rick Grimes on AMC's "The Walki...

Jeffrey Dean Morgan

American Actor Best Known For His Role in "The Walki...

Simon Helberg

Actor & Comedian; Best Known for Role of Howard Wolo...

Kunal Nayyar

Actor Known for "The Big Bang Theory"

Bradley Cooper

Actor Known for "Silver Linings Playbook," "Serena" ...

Michael Fassbender

German-Irish Actor; Known for "Inglorious Basterds,"...

Peter Dinklage

Emmy Award-Winning Actor, Known for his Role on "Gam...

Michael Rooker

Actor; Known for "The Walking Dead" and "Guardians o...

Danai Gurira

Actress, Best Known for "Black Panther" & "The Walki...

Nathan Fillion

Canadian Actor Who Stars as Richard Castle on the Se...

Jim Parsons

Emmy-nominated and Golden Globe-winning actor; best ...

Melissa Rauch

Actress, Writer & Stand-Up Comic, Best known for "T...

Jay Leno

TV Late Night Show Host, Stand-Up Comedian & Best-S...

Adrian Grenier

Actor Known for HBO's "Entourage"; Environmental Act...

Josh Duhamel

Actor and Former Fashion Model; Known for "Safe Have...

Tim Allen

Actor, Comedian & Author; Best Known for the ABC sho...
More like Norman