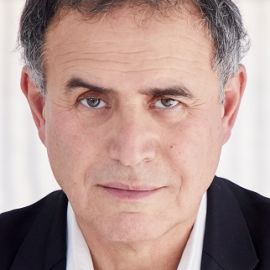 Nouriel Roubini
World Renowned Economist Who Predicted the 2007 Global Financial Crisis & Credit Crunch
Nouriel Roubini is Professor of Economics at New York University's Stern School of Business. He is Chairman of Roubini Macro Associates, a global macroeconomic consultancy firm in New York.
Roubini has extensive policy experience as well as broad academic credentials. He was Co-Founder and Chairman of Roubini Global Economics from 2005-16 – a firm whose website was named one of the best economics web resources by BusinessWeek, Forbes, the Wall Street Journal and the Economist.
From 1998-2000, he served as the Senior Economist for International Affairs on the White House Council of Economic Advisors and then Senior Advisor to the Undersecretary for International Affairs at the U.S. Treasury Department, helping to resolve the Asian and global financial crises, among other issues. The International Monetary Fund, the World Bank and numerous other prominent public and private institutions all draw upon his advisory expertise.
Roubini has published numerous theoretical, empirical and policy papers on international macroeconomic issues and coauthored the books Political Cycles: Theory and Evidence and Bailouts or Bail-ins? Responding to Financial Crises in Emerging Markets and Crisis Economics: A Crash Course in the Future of Finance. Roubini has also become a vocal skeptic of both cryptocurrenices and the Blockchain technology and rejects the notion that cryptocurrenices have an intrinsic value.
Videos
---
Speech Topics
---
U.S Economic Outlook
The U.S. economic recovery is still fragile. Positives include the bottoming out of the housing recession, the shale gas and oil revolution, monetary easing by the Fed, the strong profits of corporate firms, some job creation and entrepreneurial dynamism. Negatives including policy uncertainty, the variety of fiscal issues that the US needs to address (fiscal cliff, debt ceiling, medium term fiscal consolidation, fundamental tax reform, entitlements reform), the fragile sentiment of households and firms, the effect of the fiscal drag on the economy, the painful process of deleveraging of the private and public sector; and tail risks from the global economy (Euro Zone crisis worsening, risk of Chinese hard landing, war between Iran and Israel/US).
Long Term Changes and Trends in the Global Economy
There are many longer term changes, trends and challenges in the global economy: deepening of globalization, greater trade in goods, services, capital, labor, information and technology; technological innovation and change that disrupts countries and sectors; a third manufacturing revolution; demographic ageing in advanced economies and demographic dividend in many emerging markets; the pressure on natural resources (oil, energy, water, food, industrial metals) and the challenges of energy and food security; global climate change and its effects on recent extreme weather events; the rise in income and wealth inequality; poverty, underemployment and high unemployment; the effects of the rapid rise of the BRICs and other emerging markets; the lack of global policy leadership and coordination; geopolitical risk in the world. How will these risks and challenges be managed in the years and decades to come? Will we get greater policy cooperation and coordination (G20) or process of international disagreements, tensions and conflicts (a G-Zero world as Bremmer and Roubini defined it in a classic article)?
Eurozone: Will the EZ Survive or Break-Up?
The EZ periphery is in a deep economic, fiscal and financial crisis: recession, low potential growth, loss of competitiveness and large trade deficit, high levels of private and public debt. The recession is not bottoming out as front-loaded fiscal austerity, a strong euro and a credit crunch are further reducing business and consumer confidence. Austerity and reforms are occurring slowly. Will countries other than Greece have unsustainable debts that required restructuring? Will some countries - starting with Greece - exit the eurozone? Will the EZ go towards a greater union and integration - banking, fiscal, economic and political union - or will it fall into disunion, dis-integration, fragmentation, balkanization and eventual break-up? What is the future of the EU and the EZ? Will the UK exit the EU?
Downside and Upside Risks in the Global Economy
Downside risks include a recurrence of EZ financial stresses, given austerity fatigue and political fragility in the periphery; another fight over the debt ceiling and government shutdown in the U.S; an earlier and more serious hard landing in China; a botching of tapering by the Fed that leads to a renewed taper tantrum and spike in long-term interest rates; a few systemically important EMs experiencing outright financial/currency/sovereign crisis; secular stagnation with very low inflation and Japanification of DMs, with a sharp fall in potential growth; a geo-political development in the Middle East that spikes oil prices; a faster-than-expected pick-up in advanced economies inflation (away from disinflationary pressures), as stronger growth leads to wage growth acceleration; an escalation of geo-political tension in Asia, especially between China and Japan. With the exception of the last one, most of these tail risks are lower-probability events than a year ago.
Upside risks include a U.S. economy that grows faster—closer to 3% plus; more resilient growth in China and a smooth rebalancing of its economy; a sharp reduction in Middle East risks that significantly lower the fear premium in oil prices; significant progress in the EZ toward a full banking, fiscal, economic and political union; and an improvement in global risk sentiment that boosts risky asset prices in a significant way. Of all of these upside risks, a positive growth surprise in the U.S. looks like the most likely.
Geopolitical Risks in the Global Economy
In this speech, Roubini focuses on the many geopolitical risks in the global economy that affect economies and markets. First, the varieties of Middle East conflicts: Israel-Iran; the social and economic instability of the Arab Spring transition countries (Tunisia, Egypt and Libya); the civil war in Syria and its regional spread, the tensions between Israel and Hamas, Hezbollah and the Palestinians; the civil war in Yemen; the restless Shite communities in Lebanon, Bahrain, Kuwait and Saudi Arabia; the continued tensions between Shite, Sunni and Kurds in Iraq; the instability in Afghanistan and Pakistan. These risks could significantly affect oil prices. Second, there are rising tensions in Asia as there are a number of territorial disputes among China, Japan, Korea, Taiwan, India, Philippines, Vietnam and Indonesia. These tensions could lead to accidents and reduce trade and investment in Asia. Third, how to keep peaceful the rise of China will be probably the most important geo-strategic issue in the world in the decade to come as the rise of a new power (China) facing in the Pacific a traditional power (the US) can be a source of tension if not properly managed. The recent "pivot" of US security towards Asia points to the critical role of Asia and the Pacific in the world. Fourth, Roubini explains how to resolve global economic, financial, trade, investments and geopolitical issues in a G-Zero world where the US is no longer the dominant hyper-power and where there are a number of rising powers (China, India, Brazil) in addition to traditional powers such as Russia and Europe.
U.S Economic Outlook
The U.S. economic recovery is gathering momentum, and Roubini illustrates the pros and cons as well as the outlook. The positives include the recovery of housing after its deep contraction, the shale gas and oil revolution, monetary accommodation by the Fed, the strong profits of corporate firms, the re-shoring of some manufacturing, stronger consumer, business and investor confidence, the rise of the stock market and of other risk markets, greater job creation and entrepreneurial dynamism. The negatives include policy gridlock and uncertainty, regulatory uncertainty and the effects of Obamacare, the variety of fiscal issues that the US needs to address (debt ceiling, medium term fiscal consolidation, fundamental tax reform, entitlements reform), the still ongoing process of deleveraging of the private and public sector; and tail risks from the global economy (EZ crisis worsening, risk of Chinese hard landing, geopolitical tensions impacting oil prices).
Related Speakers View all
---
Joseph Stiglitz

American Economist, Professor at Columbia Universit...

Peter Diamandis

Founder & Executive Chairman of the XPRIZE Foundatio...

Sallie Krawcheck

Founder & CEO of Ellevest, Leadership Expert, Author...

Barney Frank

U.S. Congressman (1981-2012); Chairman, House Financ...

Ian Bremmer

Political Scientist, Author, Entrepreneur, Lecturer

Vikram Mansharamani

Academic Author, Advisor, Global Trend-Watcher & Lec...

R "Ray" Wang

Founder, Chairman & Principal Analyst at Constellati...

Ray Kurzweil

Chairman of Kurzweil Technologies; Inventor; Futurist

Jeremy Rifkin

Leading Global Technologist, Futurist, Authority on ...

Carly Fiorina

First Woman to Lead a Fortune Top 20 Company; Busine...

Ben Stein

Political Economist, Commentator, Author & Actor

Daymond John

"Shark Tank" Investor; Founder & CEO of FUBU; Presid...

Randi Zuckerberg

CEO & Founder of Zuckerberg Media, Author

Richard Florida

Leading Urbanist, Economist & Author of "The Rise of...

Raghuram Rajan

Professor of Finance at The University of Chicago & ...

Kevin O'Leary

Founder of O'Leary Financial Group; Venture Capitali...

Frank Luntz

Political Pollster & Communication Expert

Anil Gupta

Leading Expert on Strategy, Globalization and Emergi...

Geoff Colvin

Editor & Columnist at Fortune Magazine; Author of "H...

Marc Randolph

Entrepreneur, Netflix Co-Founder, National Best-Sell...
More like Nouriel