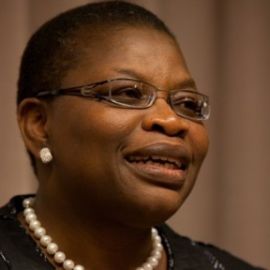 Oby Ezekwesili
Senior Economic Advisor at Open Society Foundation
Obiageli Ezekwesili assists the Mano River governments in relations with the international financial institutions and donor governments and leads an initiative to develop a school of public policy in Abuja.
Before joining Open Society, she was a vice president of the World Bank (Africa Region) in Washington, D.C., responsible for operations in 48 countries and a lending portfolio of nearly $40 billion. From 2002 to 2007, Ezekwesili worked for the federal government of Nigeria as presidential advisor in charge of public procurement reforms, minister of mineral resources, and minister of education. For the prior two years, she served as director of the Harvard-Nigeria Economic Strategy Program in Boston and Abuja.
She holds an MA in international law from the University of Lagos and an MA in public policy and administration from Harvard's Kennedy School of Government.