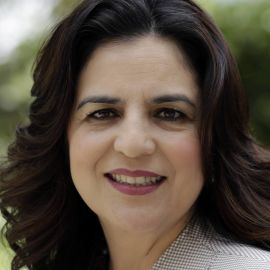 Ofelia Melendrez-Kumpf is the U.S. Vice President and General Manager of McDonald's Southern California Region. In this role, she is accountable for the management of a $2.1 billion business unit including 800+ McDonald's restaurants. The region encompasses all of Southern California, from San Luis Obispo to San Ysidro, and is one of the premier leadership regions within the McDonald's U.S. system.
Melendrez-Kumpf joined McDonald's more than 20 years ago as a manager trainee and advanced quickly through all phases of restaurant management and supervision, including support of restaurants in both the U.S. and Latin America. In 2006, she was promoted to Vice President of Operations for the Greater Southwest Region. Five years later, she was promoted to Vice President and General Manager of that region. She has held her current position in Southern California since January 2013.
Talent development and mentoring is a priority for Melendrez-Kumpf, who shares her story to inspire and to serve as a role model for young women in business and in the community. She has been an active member and supporter of diversity networks throughout her McDonald's career and in 2010 was the recipient of the company's Pat Harris Award, given to outstanding leaders with exemplary diversity and inclusion practices. She has been recognized by McDonald's franchisees, including the Women's Business Leadership Network (WBLN) and the McDonald's Hispanic Operators Association, as well as outside organizations and media, such as Latina Style and Hispanic Business magazines. In 2015, the Mexican-American Opportunity Foundation named Mrs. Melendrez-Kumpf one of its Woman of the Year honorees.
A strong supporter of Ronald McDonald House Charities, she previously served on the Board of Trustees for the Ronald McDonald House of Dallas and is currently a Board Member of both Ronald McDonald House Charities of Southern California and Ronald McDonald House Charities of San Diego.
She holds a Bachelor of Science in Business Management from the University of Phoenix.