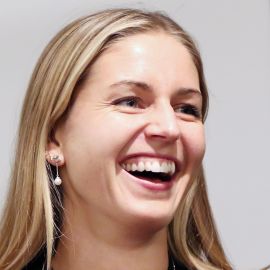 Oksana Esberard
Mindfulness Speaker & Consultant
Oksana Esberard is a certified business meditation instructor, mindfulness speaker, and consultant. She works with business owners and executives on how to install mindfulness practices at the workplace for the next level performance, cohesive teams, and cultural alignment.
Oksana has hosted immersive meditation and mindfulness events for Florida International University, BuzzFeed, Entrepreneurs' Organization, SHRM, Intradeco, Bilzin Sumberg, and New Horizons Computer Learning Centers among others.
Oksana has trained at top meditation and yoga academies in Himalayan India. She has completed a Mindfulness-Based Stress Reduction Program in the U.S. as well as a Transcendental Meditation program in Hong Kong and has participated in numerous mindfulness summits throughout the world.
Oksana is the creator of Mindfulness Movement At Work program: "people-first" business philosophy with motivated and engaged employees at the core of the company. If you think mindfulness is not applicable to the business world, Oksana's practical and impactful message will change your mind."
Videos
---
Speech Topics
---
Mindfulness Movement At Work: What, Why & How
Turning Stress Into Success with Mindfulness & Meditation
Mindful Leadership As "People-First" Strategy to Drive Business Results
Related Speakers View all
---
Libby Rapin

Mindfulness & Meditation Coach, World Explorer

Ryan Gottfredson

Mindset Author, Researcher & Consultant

Dr. Kristen Lee

Award-Winning Behavioral Science Expert & Clinician

Tom Voss

U.S. Army Combat Veteran, Mental Health & Holistic H...

Alia Crum

Principal Investigator for Stanford's Mind and Body ...

Seane Corn

International Yoga Teacher & Activist

Pandit Dasa

Mindful Leadership Expert, Motivational Speaker & Au...

Matt Johnson

On Target Living, President & Human Capacity Expert

Jennifer Thomas

Best-Selling Author, Motivational Speaker on Apology...

Michelle Zarrin

Founder of The Mindfulness Expo & Mindfulness Commun...

Joan Borysenko, Ph.D.

Behavioral Scientist & Best-Selling Author

Stephanie Wagner

Holistic Health and Well-being Coach, Healthy Minds ...

Avalaura Gaither, MSW, LGSW

Life Coach & Intuitive Consultant, CEO of Avalaura's...

Shawn Achor

Harvard Professor, Researcher & Positive Psychology ...

Ricky Mendez

Motivational Speaker, Consultant & Coach

Leah Marone

Therapist & Trainer

Pelin Kesebir

Scientist at Center for Healthy Minds, Specialist in...

Carmel Moore

Director of the One Moment Company

Jonathan Raymond

Owner of Refound & Author of "Good Authority"

Adi Jaffe, Ph.D.

Mental Health & Addiction Specialist
More like Oksana