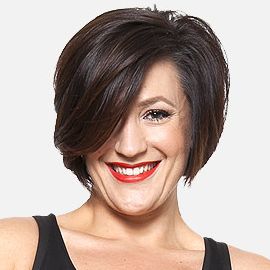 Biggest Loser Season 11 winner Olivia Ward's life has been a success on several frontsbut not all. Happily married for 12 years, the 35-year-old has not been able to start a family due to being diagnosed with polycystic ovary syndrome (PCOS), often a weight-related condition. "For a doctor to tell you, well, at this weight you won't be able to have kids, that's hard for me," says Olivia, for whom family is incredibly important.
Also, the New York City-based contestant is an opera singer, and has earned rolesbut as the witch or the buffoon, literally the butt of operatic jokes, not the leading lady. "I have a big talent, but because of my weight and how it's affected me, I haven't landed big roles," Ward said.
But Olivia Ward along with her sister, Hannah Curlee, decided to do something about their weight problems. They applied as a sister team on Biggest Loser Season 11 and found themselves headed for a possible 20 weeks on the ranch. Amazingly, they survived as the only intact team and became the first sisters to both earn two guaranteed spots in the May 24 live finale.
Along the wayand at 20 weeks it was a very long wayshe learned through grueling workouts and consistent effort that she was a fighter to the end. At her last ranch weigh-in before the finale she said, "It's about finishing something that you started. I never finished anything before. I've always been a great starter, but never finished strong."
She even garnered praise from trainer Bob Harper at the weigh-in who validated her hard work by telling her, "you are an amazing woman."
When Olivia crossed the 100-pound mark on the ranch, she vowed to sing on the scale, and she did, singing Charlotte's aria from the opera, Werther. "She's a beautiful young lady," said Olivia Ward, "and when I leave here, I will at some point stand on the stage and sing this character."
These days Olivia says she is "incredibly joyful." "I get to live my life like this. I put my money on joy, and I'm so glad I did."
Videos
---
Related Speakers View all
---
Jillian Michaels

Leading Fitness Expert, Certified Nutritionist, Reno...

Bob Harper

Personal Trainer & Former Host of "The Biggest Loser...

Nastia Liukin

Olympic Gold Medal Gymnast

Kathy Kaehler

Celebrity Trainer & Lifestyle Expert

Shawn Johnson East

Olympic Gold Medalist in Gymnastics, "Dancing with t...

Denise Austin

Fitness Expert, Author & Video Hall of Famer

Dr. Mehmet Oz

Cardiothoracic Surgeon; Host of "The Dr. Oz Show;" C...

Liz Nead

Executive Business & Life Coach

Giuliana Rancic

Entertainment Journalist & Breast Cancer Survivor

Richard Simmons

Fitness Instructor, Actor, Video Producer Known for ...

Lynn Sherr

Award-winning Broadcaster & Best-selling Author; Cor...

Diana Nyad

World Champion Swimmer, Storyteller, Sports Journali...

Christine Dumas

Consumer Health & Lifestyle Reporter; Strategic Heal...

Laila Ali

Undefeated Four-Time World Champion Boxer & Lifestyl...

Amanda Russell

Digital Marketing & Branding Strategist, Professor ...

Aly Raisman

Olympic Gymnast, Gold Medalist, Captain of the "Fier...

Linda Evans

Golden Globe and Emmy Award Winning Actress, Known f...

Kim Lyons

Fitness Expert, Former Trainer on "The Biggest Loser"

Shawn Rene Zimmerman

Professional Fitness Model and Celebrity Trainer

Gabby Reece

Beach Volleyball Champion, First Female Spokeswoman ...
More like Olivia