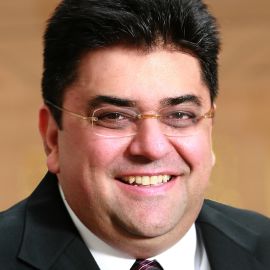 Omar Khan
Global Leadership Expert, Author and Consultant
Omar Khan is one of the pioneers of Neuro-linguistic programming, and was trained by some of its early innovators. He has been a leading innovator in Transformational Learning in the US and throughout the world.
Omar Khan is the founder and senior partner of a global leadership development and consulting firm that operates in the Americas, the UK, Asia/Pacific(Singapore), the Middle East (Dubai) and South Asia (Pakistan, Bangladesh, Sri Lanka).
Omar Khan was rated an "All Star" (the highest rating) by the Young President's Organization (YPO), and has been a keynote speaker for the annual conferences of BusinessWeek's CEO Forum, sharing the stage with former U.S. President George Bush, former Prime Minister John Major (UK), former Australian PM Bob Hawke, WTO Chairman Supachai, global CEOs and many more.
Omar Khan's books include Synergy, as well as Timeless Leadership, which is a collection of Omar's articles published at the behest of his global client base and has achieved three sold-out publishing runs. His most recent book is Liberating Passion: How the World's Best Global Leaders Produce Winning Results. Omar Khan also co-authored The Global Consultant with best-selling author Alan Weiss.
Omar Khan is arguably one of the most global consultants and speakers in the world. Born in Egypt, the son of Pakistani diplomats, Omar has lived in Germany, the US, Kuwait, Saudi Arabia, the Netherlands, England, Japan, Pakistan, Sri Lanka, Dubai and Singapore. Omar Khan studied at University College Oxford for his B.A. and M.A. before proceeding to Stanford Law School.
More About Omar Khan . . .
Omar Khan's client list is a veritable treasure trove of leading companies: American Express, 3M, Johnson & Johnson, Unilever, BusinessWeek, Maersk, Singapore Airlines, HSBC, ABN Amro, Ritz-Carlton, Raffles Hotels, Microsoft, the American Payroll Association, Motorola, HP, Dupont, FMC, The Chartered Institute of Marketing and the Catholic Church, among others.
Omar Khan's articles have appeared in Peter Drucker's Leader to Leader, Leadership Excellence Magazine (which in its 2008 rankings, rated his organization in the top 20 leadership development firms in the world), The Washington Post, Management Consulting Magazine, Strategy and Leadership, Directors and Boards Magazine, The Conference Board Magazine, and many others.
Omar Khan was, for many years, partners with the Sri Lanka Anti-Narcotics Association, a UN-approved charity that used his methodologies and processes for grassroots workshops aimed at elevating self-esteem and tackling drug usage.
Omar Khan also worked for years with the Foundation for Community Encouragement (FCE), founded by best-selling author M. Scott Peck (author of The Road Less Traveled), with whom Omar collaborated and partnered in the years prior to the author's death. A book based on that collaboration is forthcoming.
Omar Khan has worked personally at the senior leadership levels with: Unilever, BAT, Svitzer (a subsidiary of Maersk), Powered by Professionals, Sun Microsystems, Shui On Group, FMC, Raffles International, Nestle, DIFC, Sedco, American Express TRS, 3M, among others.
    Leading With Passion
    Timeless Leadership
Related Speakers View all
---
The Carrot Guys

Sure, they have real names; but they are best known ...

Adrian Gostick

Founder of The Culture Works & Bestselling Author of...

Chester Elton

#1 Bestselling Business Author; Organizational Cultu...

JP Pawliw-Fry

Co-Founder of the Institute for Health and Human Pot...

Benjamin Zander

Conductor, Teacher, Speaker on The Art of Possibility

Douglas Conant

Chairman, Avon Products; Founder & CEO, Conantleader...

Dave Logan, PhD

Author of New York Times #1 Bestseller "Tribal Leade...

Shawn Achor

Harvard Professor & Researcher; Positive Psychology ...

Steve Smith

Steve Smith has spent the past ten years exploring h...

John Scherer

Expert on Authentic Leadership and Author of Work an...

Sam Geist

Consultant / Facilitator

Jack Zenger

Co-Founder and CEO of Zenger Folkman; Expert on Lead...

Dick Ruhe

Leadership, Change, Quality and Team Building Specia...

Stephen M.R. Covey

Co-Founder & CEO of CoveyLink Worldwide and Author o...

Mark DeVolder

Change Management & Employee Engagement Expert

Afterburner

US Fighter Pilots & Corporate Teambuilding Speakers

Colin Shaw

Customer Experience Thought Leader, CEO of Beyond Ph...

Miha Pogacnik

World Renowned Violinist, Entrepreneur & Cultural Am...

Reldan Nadler

Leadership and Emotional Intelligence Expert

Doug Lipp

Former Head of Training at Walt Disney University & ...
More like Omar