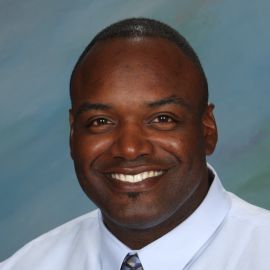 Oscar McBride
Oscar McBride is a former NFL player, graduate of Notre Dame, author, and Chairman of the Fit4Life Youth Foundation.
Oscar McBride is a graduate of the University of Notre Dame du lac (94) where he was a four year football letter winner under Coach Lou Holtz. After playing in the NFL, Oscar received his Masters degree in Coaching, Athletic Administration and Exercise Science from Concordia University and is currently pursuing his doctorate in education with an emphasis in athletic administration and leadership from Northcentral University.
Oscar is Chairman of the Fit4Life Youth Foundation, a California non-profit organization. This foundation operates various programs including Relentless Sports and Red Zone Youth Passing League which are dedicated to youth fitness, wellness and character development.
Fit4Life is also involved in international and community outreach. During the summer of 2010, Oscar traveled to Uganda and visited several of Ugandas Catholic schools and parishes where he mentored young people while using sport (American flag football) as the relational platform. An experienced educator and coach, he recently taught while coaching both football and basketball at a local Catholic high school in Orange County, CA.
Currently Oscar coaches high school varsity football and was recently awarded the coveted 2011 Double Goal Coach Award by the Positive Coaching Alliance presented by Liberty Mutual Insurance. In 2009, Oscar co-founded the Notre Dame-endorsed Positive Athletes Leadership Society (PALS). PALS is a high school organization that encourages athletics as a path to leadership, maturity, ministry, and service.
A published author, Oscar released Relentless Wisdom in the spring of 2011. Relentless Wisdom although profound takes an objective yet satirical look at a sport as it impacts the cognitive and social development of todays youth.
Oscar is a member of the National Positive Coaching Alliance, the National Federation of State High School Associations, the Interscholastic Athletic Administrators Association, the American Football Coaches Association, the American Alliance for Health, Physical Education, Recreation and Dance, World Class Speakers & Entertainers Bureau,
Speech Topics
---
Y.E.A.R.S. - Youth Educational Advancement Redefined by Sport
This topic underscores the importance of sport in the cognitive, social and character development of young people. Also challenges parents, coaches and athletes to look at athletics beyond wins and losses but more of an opportunity to help young people grow into productive members of society.
Sport is Life
This topic highlights the presence of sport in everything we do. From our chosen profession to our personal relationships any and all experiences can be related to something learned/taught in sport educational environments (See Ask Oscar Blog)
Performance Enhancement through Positive Imagery
This topic is specific to understanding the importance of visualizing success before it happens. Simple psychology would suggest that we are what we think we are whether in athletics or business taking the time to employ a positive imagery exercise has proven itself valuable to many highly successful individuals.
Related Speakers View all
---
Jessica Tudos

Olympian turned Motivational Speaker, Edupreneur & K...

Heath Calhoun

Alpine Skier & Veteran of the United States Army

Olga Korbut

Olga Valentinovna Korbut, also known as the "Sparrow...

Myron Rolle

Pro Football Player, Rhodes Scholar & Humanitarian

Devon Harris

Member of First Jamaican Bobsled Team; Featured in H...

Peter & Bethany Yarrow

Inspiring Musicians

Ray Zahab

Ultra-marathon Runner and Adventurer; Host, "The Pro...

Mike Schlappi

Paralympic Medalist

Mike Dilbeck

Founder of the RESPONSE ABILITY Project Chair of RES...

Shawn Achor

Harvard Professor, Researcher & Positive Psychology ...

Manuel Scott

An original "Freedom Writer" whose story is told in ...

Allison Massari

Executive Coach, Entrepreneur, Visual Artist & Burn ...

Sean Stephenson

Therapist, Motivational Speaker, and Self-Help Autho...

Coach Ken Carter

Coach, Author, Educator & Inspiration for the Film "...

Kelly Corrigan

Author of "Glitter and Glue" & Breast Cancer Survivor

Shawn Harper

Former NFL Football Player, Successful Businessman &...

Peter Vidmar

Olympic Gymnast, Fitness Advocate

Benjamin Zander

Conductor of the Boston Philharmonic Orchestra; Cele...

Pat Williams

Motivational Speaker & Sports Executive; Senior Vice...

Chauncey Veatch

National Teacher of the Year, 2002
More like Oscar