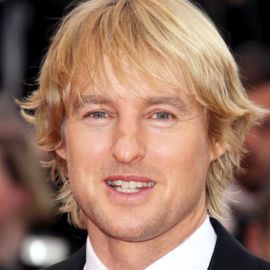 A comic actor whose talents spread to writing and producing, Owen Wilson teamed up with college roommate Wes Anderson to help put Austin on the filmmaking map with their debut film, "Bottle Rocket" (1996). Because of the offbeat comedy's success, Wilson landed minor roles in big budgeted movies very quickly such as The Cable Guy which was directed by Ben Stiller. After minor appearances in action films like Anaconda, Armageddon and The Haunting, Owen got his big break with the 2000 comedy action hit Shanghai Noon starring opposite Hong Kong action star Jackie Chan. After the success of Rush Hour, producers thought the buddy formula could work again with Jackie Chan being paired with a white man this time. And they were right. The film was a success, grossing nearly $100 million dollars worldwide.
Owen returned to the buddy comedy genre in 2002 with the action comedy I Spy, co-starring this time with Eddie Murphy. The big screen remake of the television series flopped at the box office. He then reunited with Chan to make Shanghai Knights (2003), teamed up with Ben Stiller in the movie remake of the television series Starsky & Hutch (2004), and partnered with Vince Vaughn in the 2005 Wedding Crashers which grossed over $200 million dollars in the US alone.
In 2001, Wilson and Anderson wrote their third film, The Royal Tenenbaums, which was a financial and critical success. The comedy featured an all-star cast, including Gene Hackman, Ben Stiller, Anjelica Huston, Gwyneth Paltrow, Luke Wilson, and Danny Glover. Wilson had a memorable supporting role in the film as a Professor-turned-bestseller "Eli Cash." It earned the writing team an Academy Award nomination for Best Original Screenplay.
Wilson's roles have varied between small, quirky comedy collaborations with Anderson and bigger budget box office fare. Wilson, along with Ben Stiller, Luke Wilson, Will Ferrell, Vince Vaughn, Jack Black, and Steve Carell are considered members of the Frat Pack, a comedic Rat Pack-style clique of comic actors who frequently teamed up and/or cameoed in each other's films. He is the first "Frat Pack" member to receive an Academy Award nomination.
After playing Jedediah in "Night at the Museum: Battle of the Smithsonian" (2009) and reprising his ex-fianc role for "Little Fockers" (2010), he returned to animation to voice the title character in "Marmaduke" (2010) and reprised Lightning McQueen in "Cars 2" (2011). That same year, Wilson delivered one of his best performances in "Midnight in Paris" (2011), Woody Allen's highly-praised romantic comedy that proved to be the biggest hit of the director's career, in a role that earned Wilson a Golden Globe nomination for Best Actor - Musical or Comedy
He has been in ten movies with Ben Stiller, up to this date. They are The Cable Guy (1996), Permanent Midnight (1998), Meet the Parents (2000), Zoolander (2001), The Royal Tenenbaums (2001), Starsky & Hutch (2004), Meet the Fockers (2004), Night at the Museum (2006), Night at the Museum: Battle of the Smithsonian (2009), and Little Fockers (2010).
Related Speakers View all
---
Steve Buscemi

Actor; Known for "Boardwalk Empire," "Fargo" and "Re...

Ed Begley Jr.

Environmental Activist & Emmy Award-Nominated Actor

Nic Pizzolatto

An American novelist, screenwriter, and producer.

Alfonso Cuarón

Academy Award-Winning Mexican Film Director, Screenw...

Christopher McQuarrie

American screenwriter, Producer and Director: Valkyr...

Liev Schreiber

American Actor, Producer, Director, and Screenwriter

Kevin Willmott

Civil Rights Activist, Filmmaker, Commentator and Pr...

Mark Ronson

Award-Winning Music producer and DJ

Judd Apatow

Director, Producer

Spike Lee

Academy Award-Winning Writer, Producer, Actor & Dire...

Jim Jarmusch

Director & Writer; Known for "Stranger Than Paradise...

Carl Franklin

Actor, Director & Producer Known for "Devil in a Blu...

Regina Hall

Actress Known for "Scary Movie," "The Best Man" & "A...

Patrick Marber

English comedian, playwright, director, puppeteer, a...

Andy Buckley

Actor, Screenwriter & Stockbroker; Known for his Rol...

Michael Stuhlbarg

Award-Winning Actor

Dan Harmon

Creator & Executive Producer for the NBC Television ...

Alan Arkin

Actor and Director; Known for "Argo" and "Little Mis...

David Hayter

Canadian-American voice and screen actor and screenw...

Michael McDonald

Michael James McDonald is an American stand-up comed...
More like Owen