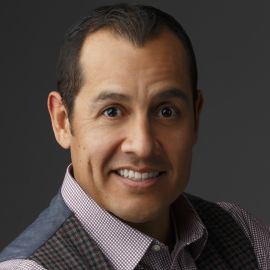 Oz Sanchez is no stranger to overcoming adversity. He was born in 1975 and raised in Los Angeles, California. By the time he graduated high school he was involved with drugs, gangs and street life. In 1996, Sanchez turned his life around following his recruitment into the Marine Corps. In the Marine Corps, he found himself in his natural element and quickly excelled through the ranks.
Soon after graduation from boot camp, Sanchez discovered and grew interest in joining the Marine Corps Special Operations forces. After passing the initial screening and lengthy selection process, he spent the rest of his career in specialized training such as scout sniper, combatant divers course, parachuting, and varying other types of specialized training. He visited over fourteen different countries and was twice deployed to the Middle East and other hostile regions.
After nearly six years with the Marines, Sanchez decided to transfer to the Navy to operate as a Navy Seal. In July 2001, during the time of his transfer between branches, Sanchez's life changed forever when he was involved in a hit-and-run motorcycle accident, which resulted in a spinal cord injury (SCI) and the inevitable paralysis and neurological complications associated with SCI.
After the accident, the biggest fear Sanchez faced was how he would define himself given his new physical parameters. He worked on developing both a renewed sense of identity and a transformed perception on life. He devoted himself to his educational studies and he graduated from SDSU with a degree in business administration and a minor in public communications in 2006.
Since the accident, Sanchez has proactively competed in the adaptive sports of handcycling and Triathlon. Today, he is a five-time world champion in the sport of handcycling under the Paralympic umbrella. Sanchez won one gold and one silver for the U.S. Team at the 2008 Paralympic Games in Beijing. At the 2009 UCI Para-cycling World Championships, Sanchez took home the gold medal in the individual time trial. In February of 2009, Sanchez was recognized as the "Challenged Athlete of the Year" by the San Diego Hall of Champions. At the 2010 World Championships, he improved from the previous year, and took home two gold medals in the individual time trial as well as the individual road race. He recently won two gold medals in the 2011 World Championships in Denmark, securing his spot in the 2012 Paralympic Games in London.
Sanchez recently was featured in an incredible documentary called "Unbeaten". The challenged athletes in the film come to symbolize all who are forced to come to terms with the painful reality of living with a disability.
Videos
---
Related Speakers View all
---
Story Musgrave, M.D.

Retired NASA Astronaut; Physician & Professor at Art...

J.R. Martinez

Actor, Best-Selling Author, Motivational Speaker, Ad...

Tom Voss

U.S. Army Combat Veteran, Mental Health & Holistic H...

Coach Ken Carter

Coach, Author, Educator & Inspiration for the Film "...

Shawn Harper

Former NFL Football Player, Successful Businessman &...

Austin Hatch

Two-Time Plane Crash Survivor, Former College Athlet...

Shoshana Johnson

First African American Woman POW in U.S. War History

Alia Crum

Principal Investigator for Stanford's Mind and Body ...

Scott O'Grady

Former U.S. Air Force Captain, Fighter Pilot Who Sur...

Israel Idonije

Retired Defensive End for the Chicago Bears; Entrepr...

Pat Williams

Motivational Speaker & Sports Executive; Senior Vice...

Brian Holloway

Five-Time NFL All-Pro; Motivation & Team Building Ex...

Dick Rutan

Voyager Pilot, Adventurer and Aviation Pioneer

Rocky Bleier

Former NFL Football Player, Wounded Vietnam Veteran ...

Keni Thomas

Ranger in the "Blackhawk Down" Mission, Award-Winnin...

Ed Hiner

Retired U.S. Navy SEAL, Best-Selling Author & Leader...

Lalo Alcaraz

Creator of the Comic Strip "La Cucaracha", Producer ...

Bill Capodagli

Author of "Innovate the Pixar Way: Business Lessons ...

Jim Abbott

Former One-Handed Major League Baseball Pitcher

Travis Macy

Author of "The Ultra Mindset: An Endurance Champion'...
More like Oz