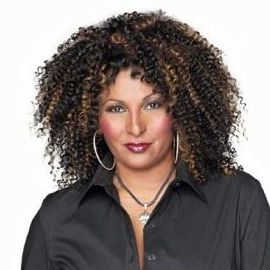 She came to fame in the early 1970s, after starring in a string of successful blaxploitation films, and has since remained in the public spotlight, appearing in a large number of films, including B-movies, and more notably as the title character in director Quentin Tarantino's 1997 film, "Jackie Brown."
She was discovered by director Roger Corman, who cast her in his women-in-prison pictures "The Big Doll House" (1971) and "The Big Bird Cage" (1972). She became a staple of the blaxploitation movies of the early 1970s, playing big, bold, buxom, and essentially interchangeable roles, beginning with 1973's "Coffy," in which Grier played a nurse who seeks revenge on drug dealers; her film character was advertised in the trailer as the "baddest one-chick hit-squad that ever hit town!" Grier subsequently played similar characters in the films "Foxy Brown" (1974), "Friday Foster" and "Sheba, Baby" (both 1975).
Grier highlighted a successful television series during the '90s on B.E.T. She once again appeared in a leading role in 1997 as the titular stewardess in Quentin Tarantino's "Jackie Brown," which many consider her best work so far. From 2004 to 2009, she appeared on "The L Word." Recently, she has appeared in the movies "Larry Crowne" and "The Man With the Iron Fists."