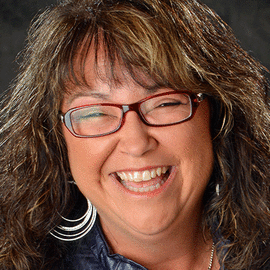 Pam Ivey loves to speak to people who want to empower themselves for success, especially entrepreneurs and small business owners who are in growth mode. Pam's specialty is online marketing and online marketing management.
Pam often speaks to large audiences and there are four things that separate her from other speakers on online marketing:
She is a speaker on online marketing success who has a strong business background in in these areas, not a professional speaker who talks about them because they're hot topics.

She is passionate about creating more successful online business owners.

She tailors each speech or workshop to the audience. To do that, she likes to meet or speak to the meeting organizers before the event so that she understands the business and the needs of the audience.

She believes that each talk should be fun and entertaining as well as inspiring and interesting.
In short, Pam Ivey…
Is an internationally recognized online marketing expert, speaker, author and coach.
Loves speaking to people who want to empower themselves to increase their business success.
Wrote the book, The Business of Being Virtual, and was a nominee for the 2010, 2011, 2012, 2013 and 2014 Women Entrepreneur of the Year Award by RBC Canada.
Her passion is to create more successful business leaders, most especially to increase the number of women business owners.
Is sought after by live and virtual conferences, workshops, seminars and summits, for her compelling and inspiriting insights on career and business success, the world of brands and branding, and female leadership.
Has spoken for a wide range of clients including The Coaching Super Summit, International Virtual Assistant Association, and the Forum on Virtual Assistance, as well as numerous online events, video summits and podcasts.
Is a dynamic facilitator and panel discussion leader.
Is known for her fun, motivational and customized delivery so each audience can be inspired to achieve productive change and life-long learning.
---
Speaking Programs include:
Keynote Speaker
Pam is known for her compelling content on online marketing, and entertaining style. She also does industry specific talks to make the talk relevant and inspirational.
Workshop Leader
pam-speaking-dPam's Deep Impact – Stop Hating Marketing, Start Loving It! and Get Amazing Results: Create Your Marketing Strategy Plan and Calendar breaks down the often overwhelming concept of marketing into simplified step-by-step action items, all geared toward business building and success.
Panel Expert
An author and successful online business owner, Pam is a compelling panelist on online marketing, and online business in general.
---
Pam Ivey is a tireless champion of the online business industry and is considered a Thought Leader in Online Marketing and Outsourcing. Known for her warm and engaging manner and wide-ranging, comprehensive skills and experience, she has inspired countless entrepreneurs to achieve greater heights in their businesses through training, coaching, speaking and mentoring.
Her flagship program, Online Marketing Manager Certification™, is cutting-edge training designed to teach students all of the major aspects of online marketing from start to finish, providing them with the confidence and knowledge they need to secure high-level, high-paying clients, hungry and even desperate to partner with them to grow their businesses.
Pam is co-author of "The Business of Being Virtual", and is featured in the award-winning, 2012 Technology Book of the Year, "Internet Prophets: The World's Leading Experts Reveal How to Profit Online".
Located in Wasaga Beach, Ontario, Canada, Pam feels very fortunate to live in one of the most beautiful areas in the world, boasting the world's longest freshwater beach, amazing forested trails, Ontario's best downhill and alpine skiing, and a beautiful provincial park right at her doorstep.
Visit Pam's website at http://www.pamivey.com.
Speech Topics
---
The Power of Passive Income: Learn How To Make Money While You Sleep!
Key Takeaways:
Learn the components that should be included for effective sales.
Discover where you can find products already created for you - so you can just tweak and earn!
Learn different types of products that work well for generating passive income.
Grow Your Sales Army: Find, recruit and motivate affiliates.
Key Takeaways:
Learn why regular communication is a must to motivate your affiliates, and what you should say to them.
Find out what you should include in your affiliate resource center for the biggest sales
Discover motivating ways to have people saying YES! to joining your affiliate program
Learn how to find ideal people to approach to join your affiliate program.
Top Online Marketing Strategies
How's your online sales? Could they use a tune up or an entire overhaul? Learn top strategies for greater traffic, and more online sales.
Key Takeaways:
Walk away with checklists for your website, SEO, and content marketing to implement in your business right away!
Learn the current trends in marketing strategies in the online world.
Learn current trends in marketing strategies in the online world. What's working? What's not?