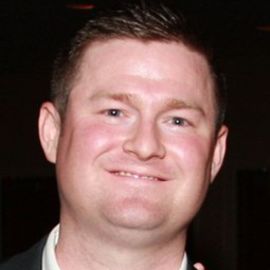 Patrick Quinn is the co-founder of the ALS Ice Bucket Challenge, a viral social media challenge that benefitted the ALS association from July to August 2014. The challenge raised over $220,000,000 globally.
A month after his 30th birthday, Quinn was diagnosed with Amyotrophic Lateral Sclerosis, better known as ALS. Shortly after, he committed to a mission of spreading awareness for this unknown disease. Quinn became a strong advocate explaining to others that having no effective treatments or a cure is not acceptable. With the help of his friends and family, Quinn for the Win was organized. In 2013-2015, Quinn for the Win held over a dozen local fundraising events which spread awareness of this horrible disease and increased funding for ALS research.
In July of 2014, the biggest movement in ALS and fundraising history began, the ALS Ice Bucket Challenge. Quinn was at the forefront of the ALS Ice Bucket Challenge where he connected networks to facilitate in popularizing the Ice Bucket Challenge around the United States and around the world. In 2015, Quinn for the Win held an ALS Ice Bucket Challenge that included over five hundred participants.
Quinn has been on various media outlets to discuss ALS and the Ice Bucket Challenge ranging from local television & radio to Good Morning America and MSNBC. Additionally, he continues to advocate for ALS by talking before Congress, at inspirational speaking engagements with Google, Facebook and Wired magazine as well as guest speaking at grammar, high schools as well as universities.
Quinn has received many accolades for his advocacy work including; ALS Association Living Hero Award, ALS Therapy Development Institute Stephen Hayward Patients Today Award, a medal from City of Yonkers Mayor Mike Spano Distinguished Service Award. Additionally, Pat was inducted to the Iona Preparatory Hall of Fame, inducted to the Irish America Magazine Hall of Fame in Ireland and also received the Dylan Smith Award from the American Ireland Fund for community service. Quinn and the ALS Ice Bucket Challenge received a Webby Award where he created the inspiring 5- word acceptance speech "Every August Until A Cure" which became the new mantra for the ALS community.
The ALS Ice Bucket Challenge was nominated for thirteen awards at the Cannes Lions International Festival of Creativity, ten Gold Cannes Lions and the Grand Prix for Good were awarded. Additionally, the ALS Ice Bucket Challenge received the Facebook award for Good. Quinn was nominated for 2014 TIME Magazine Person of the Year.
Quinn was born and raised in Yonkers, NY, and attended Iona Preparatory school and Iona College.
Videos
---
News
---
ALS Ice Bucket Challenge Returns In August
Led by co-founders Pete Frates, Pat Quinn and Anthony Senerchia, and with the help of celebrities, the Boston Red Sox and Major League Baseball (MLB), the ALS Ice Bucket Challenge is making a splash again this August.
Related Speakers View all
---
Woody Roseland

Eight-Time Cancer Survivor, Amputee & Motivational S...

Tom Voss

U.S. Army Combat Veteran, Mental Health & Holistic H...

Nancy Frates

CEO of Team Frate Train; Mother Behind the ALS Ice B...

Story Musgrave, M.D.

Retired NASA Astronaut; Physician & Professor at Art...

Chris Ruden

World's Strongest Amputee & Type 1 Diabetic

T.J. Sharpe

Stage IV Melanoma Patient & Writer of the #1 Blog on...

Alek Skarlatos

France Train Hero & Legion of Honour Recipient; "Dan...

Austin Hatch

Two-Time Plane Crash Survivor, Former College Athlet...

Harry Farthing

Adventurer, Businessman and Author of "Summit"

Jordan Romero

Author & Youngest Person to Climb Mount Everest

Oz Sanchez

Retired Marine & Two-time Paralympic Gold Medalist

Dr. Richard Bedlack

Professor of Neurology, Duke University; Director & ...

Jason Romero

Blind Ultra-Athlete, World Record Holder, Humanitari...

Dr. Steve Perrin

Chief Executive Officer and Chief Scientific Officer...

Dr. Lucie Bruijn

Chief Scientist of the ALS Association; Senior Advis...

Alisa Brownlee

Clinical Manager, Assistive Technology Services at A...

Barbara Newhouse

CEO, Children's Heart Foundation; Former President &...

Donna Beegle

President of Communication Across Barriers Inc. & Au...

O.J. Brigance

Former Professional Football Player Living with ALS

Ben Petrick

Former Major League Baseball catcher and author of, ...
More like Patrick