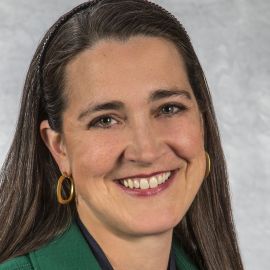 Patricia K. Poppe is President and Chief Executive Officer of CMS Energy and its principal subsidiary, Consumers Energy, which serves 1.8 million electric customers and 1.7 million natural gas customers. The company has annual revenues of $6.1 billion, assets totaling $18.6 billion and 7,300 employees. She was elected to this position in July 2016.
Poppe most recently served as Senior Vice President of Distribution Operations, Engineering and Transmission. She was responsible for engineering, maintenance and operations of the electric and natural gas delivery systems.
Prior to that, Poppe served as Vice President of Customer Experience, Rates and Regulation. She joined Consumers Energy in January 2011 as Vice President of Customer Operations.
Previously, Poppe served as a Power Plant Director at DTE Energy. Prior to joining DTE Energy, Poppe held a variety of plant management positions in the automotive industry.
Poppe earned a master's degree in management from the Stanford University Graduate School of Business and received a bachelor's degree and master's degree in industrial engineering from Purdue University.