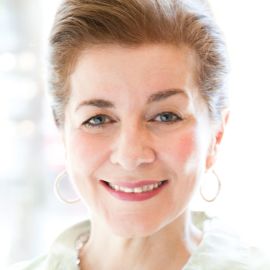 Patricia Schultz
Bestselling Author of "1,000 Places to See Before You Die"
Patricia Schultz has a dream job: traveling the globe and writing about it. She is the author of the international #1 bestsellers, "1,000 Places to See Before You Die" (translated into 25 languages) and "1,000 Places To See in the United States and Canada Before You Die," with almost 4 million copies in print. With these works, she has reinvented the idea of the travel book as both a wish list and a practical guide. She was chosen by Forbes as one of the 25 most influential women in travel, and was executive producer of the Travel Channel's TV show based on her first "1,000 Places" book.
According to family legend, but never proven, Patricia's family is somehow related to Mark Twain, who was a preeminent globetrotter of his day. Patricia's own wanderlust began on the beach at Atlantic City, when she set off from the family beach blanket seeking adventure and was returned to an apoplectic mother several hours later by some relieved lifeguards. "I had heard the siren call of the great, global beyond," she recalls, "and I had answered. I was hooked. I was four years old."
While her college classmates headed for Wall Street, Patricia grabbed her passport and made a beeline for the airport, and soon discovered that she could make a living from her passion. Many guidebooks and articles later, she embarked upon the first "1,000 Places" book, spending seven years augmenting the knowledge she gained from her own travels with information from hundreds of books and magazines and first-person reports from colleagues, tourist agencies, and individual travelers.
Schultz is a popular speaker at travel shows, museums, associations, and organizations both in the U.S. and abroad. She has recently been named godmother of Avalon's newest ship and christened the Avalon Expression on its maiden voyage. She has written about travel for publications including The Wall Street Journal, Everyday with Rachael Ray, Oprah: The O Magazine, and Real Simple, and for guides such as Frommer's and Berlitz. In more than 25 years of travel writing, she has never lost her curiosity or passion. "Some people can speed from New York to L. A. without registering a thing," she writes. "I can walk around my mid-Manhattan block and come home with a carton of milk and stories to tell. The number of miles covered has nothing to do with the real pleasures of travel–the inherent beauty of the world and the discovery it promises are all around us."
Related Speakers View all
---
Rick Steves

Leading Authority on European Travel

Erin Gruwell

Inspirational Educator & Author of "The Freedom Writ...

Rudy Maxa

Consumer Travel Writer & Expert

Geralyn Lucas

Author of "Why I Wore Lipstick: To My Mastectomy" & ...

Doug Fine

Globe-Trotting Journalist; Humorist; NPR Adventure C...

Robyn Benincasa

World Champion Adventure Racer & Best-Selling Author

David Rowicz

Entrepreneur, Bestselling Author, World Traveler & P...

Lois Lowry

Newbery Medal-Winning Author of "Number the Stars" a...

Christopher Elliott

Reader Advocate and Columnist for National Geographi...

Amanda Lindhout

Executive Director of The Global Enrichment Foundati...

Mark DeCarlo

Comedian and Host of the No. 1 iTunes Food & Travel ...

Samantha Brown

Travel Expert & Host of "Samantha Brown's Places to ...

Bill Bryson

Best-Selling Author Known for "A Short History of Ne...

Rebecca Walker

Feminist Visionary & Best-selling Author

Diana Nyad

First Person to Successfully Swim from Cuba to Flori...

Erin Brockovich

Consumer Advocate, Author, TV Host & Environmental A...

Rolf Potts

American Travel Writer, Essayist & Author, Lecturer ...

Pauline Frommer

Co-President & Editorial Director of Frommer Media

Jaycee Gossett

Dancer, Teacher and TV Personality on Travel Channel

Kristine Carlson

Co-author of the "Don't Sweat the Small Stuff" book ...
More like Patricia